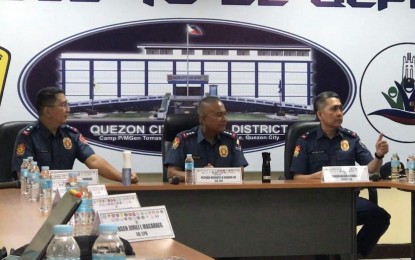 MANILA – The Philippine National Police (PNP) on Wednesday designated three freedom parks in Quezon City where protesters can hold their activities during the first State of the Nation Address (SONA) of President Ferdinand "Bongbong" Marcos Jr.
PNP director for operations Maj. Gen. Valeriano de Leon said protesters can hold their rallies at the Quezon Memorial Circle, inside the compound of the Commission on Human Rights, and inside the University of the Philippines Diliman campus.
"We appeal to the organizers of the protest actions to limit their activities in these freedom parks to prevent disturbance of the smooth traffic flow in the area and to avoid unnecessary confrontation with the police," de Leon said in a statement.
As instructed by PNP officer-in-charge, Lt. Gen. Vicente Danao Jr., de Leon said the PNP will exercise maximum tolerance but warned of corresponding response by civil disturbance management units on the ground if protesters will go out of the designated freedom parks.
"If they go out of the freedom parks and it will disturb traffic and peace and order, then we will disperse them at all cost," he added.
De Leon also said they will enforce the law, Batas Pambansa 880, which prohibits the burning of effigies.
Based on the data they received, de Leon said militant group Bagong Alyansang Makabayan filed a request with the Quezon City government to hold protest action along Commonwealth Avenue.
He, however, said they are still verifying with the city government whether this had been granted.
The PNP earlier said the stretch of Commonwealth Avenue will be a no-rally zone to save motorists and commuters from inconvenience.
Almost 22,000 police personnel and force multipliers will be deployed to secure the event on July 25.
The Metropolitan Manila Development Authority has released a traffic rerouting plan in Quezon City.
Aside from the closure of the IBP Road on the day of the SONA, de Leon said other security and traffic scheme adjustments would be made depending on the situation on the ground. (PNA)