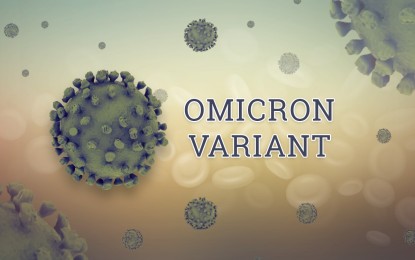 MANILA – The country has detected 816 additional cases of Omicron BA.5 subvariant, the Department of Health (DOH) reported Wednesday.
In a media forum, DOH officer-in-charge Maria Rosario Vergeire said all regions, except the Bangsamoro Autonomous Region in Muslim Mindanao (BARMM), have detected the BA.5 subvariant and 12 returning overseas Filipinos tested positive for it.
"Three hundred nine from Region 6 (Western Visayas); 145 from National Capital Region; 106 from Calabarzon; 69 from Region 11 (Davao); 56 from Region 2 (Cagayan Valley); 41 from Cordillera Administrative Region; 14 from Region 3 (Central Luzon); 13 from Region 5 (Bicol); 13 from Region 4-B (Mimaropa); 12 from Region 7 (Central Visayas); eight from Region 12 (Soccsksargen) and five from Region 1 (Ilocos)," she added.
Of the total BA.5 tally, 560 cases are fully vaccinated while the vaccination statuses of the remaining 256 are still being verified.
The exposure of the cases are still unknown and their travel histories are still being verified.
Three individuals presented moderate symptoms while the disease severity of each of the remaining 813 is still being verified.
About 686 of the total cases are now tagged as receovered while 78 are still undergoing isolation.
The DOH is still verifying the outcomes of the remaining 52 individuals.
There were also 42 additional BA.4 cases -- 10 were from Soccsksargen; nine from the Davao Region; seven from Western Visayas; four each from the NCR and Bicol Region; three from Calabarzon; one each from the Cordillera and BARMM; and three returning overseas Filipinos.
Thirty-one of them are fully vaccinated while the vaccination status of the remaining 11 cases are still being verified. The DOH is also verifying their exposures and travel histories.
Thirty-six out of the 42 cases are tagged as recovered, five are still undergoing isolation and the outcome of the other case is being verified.
Meantime, about 52 additional BA.2.12.1 cases were also detected.
At least one individual from Central Luzon, Bicol Region, Western Visayas, Central Visayas, Zamboanga Peninsula, Davao Region, Soccsksargen, CAR, Caraga and the NCR tested positive for the BA.2.12.1 subvariant.
Their exposures, travel histories, and health status are still being verified.
Twenty-six are fully vaccinated and five are partially vaccinated.
The vaccination statuses of the remaining 21 are still being verified.
About 49 of the cases are now tagged as recovered while the outcomes of the remaining three are still being verified. (PNA)