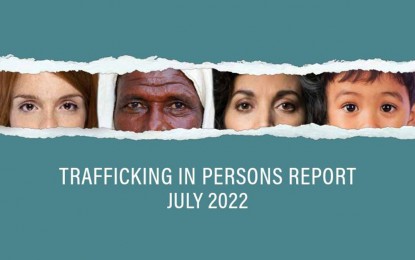 MANILA – The Philippines continues to meet the standards in eliminating trafficking in persons as it kept its "top tier" status in the latest US State Department report.
According to the July 2022 Trafficking in Persons Report, the Philippines has maintained for seven consecutive years its Tier 1 ranking, the highest in the State Department's four-tier placements.
"The Government of the Philippines fully meets the minimum standards for the elimination of trafficking," the report read. "The government continued to demonstrate serious and sustained efforts during the reporting period, considering the impact of the COVID-19 pandemic on its anti-trafficking capacity; therefore the Philippines remained on Tier 1."
Manila, the report said, identified more victims during the reporting period than in 2020, sentenced "nearly all traffickers" to significant prison terms, and finally, created the Department of Migrant Workers.
The report covers government efforts undertaken from April 1, 2021 through March 31, 2022. During this period, the Philippine government identified a total of 1,802 trafficking victims, higher than the 1,534 recorded in 2020.
The State Department said the Philippines "reported providing all identified victims with direct services or referrals to various protection services, including shelter provisions of basic needs, medical care, education assistance, psychosocial counseling, and livelihood assistance."
In addition, it cited the support extended to more victims as well as the government's increased funding to the interagency anti-trafficking council.
While the country meets the minimum standards, the report said the government must increase efforts to investigate, prosecute, and convict complicit officials and labor traffickers.
It also encouraged strengthening the capacity of local government units to provide reintegration services for trafficking survivors, including trauma-informed care, job training, and in-country employment.
Apart from these, the State Department listed the following recommendations:
- Make sure to include the input from a diverse community of survivors on the design, implementation, monitoring, and evaluation of anti-trafficking policies and programs;
- Increase efforts to ensure victims receive court-ordered restitution and compensation;
- Increase efforts to identify and assist labor trafficking victims, including by providing training to law enforcement, social service providers, and labor inspectors on indicators of trafficking;
- Increase resources for law enforcement units designated to investigate all forms of trafficking;
- Consistently implement the coordinated interagency response to providing services to returning Filipinos exploited in sex and labor trafficking overseas; and
- Create a central database for information on illegal recruiters and human trafficking cases to facilitate interagency coordination.
The Philippines was last placed in Tier 2 in 2016.
In the methodology, the State Department explained that ranking Tier 1 does not mean that a country has no human trafficking problem but rather indicates "that a government has made efforts to address the problem".
"To maintain a Tier 1 ranking, governments need to demonstrate appreciable progress each year in combating trafficking. Tier 1 represents a responsibility rather than a reprieve," it said. (PNA)