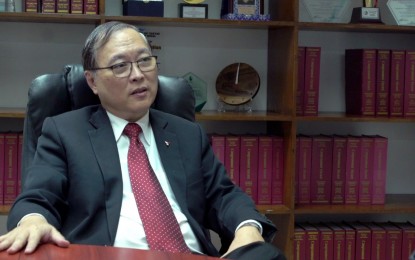 MANILA – Remote communities in need of high-speed internet may take advantage of the satellite internet service provided by Starlink and have its cost shared among users, the chief of the Department of Information and Communications Technology (DICT) said.
DICT Secretary Ivan John Uy said Starlink, the satellite internet service of Elon Musk's SpaceX, which will use low-orbit satellites instead of terrestrial cables -- may cost around USD500 (about PHP28,000) for each satellite dish and a monthly cost of around USD100 to USD200 (about PHP5,600-PHP11,200) while providing up to 200 Megabits per second (Mbps) of low latency internet service.
"These things do not need to be in individual homes, they can be shared by the community. I think that is strategic," Uy said in an interview with the Philippine News Agency (PNA) on Tuesday.
Latency is the time it takes for data to travel between two points. A low latency is associated with a positive user experience.
Although internet speed in the Philippines has improved using broadband, fiber technology, remote regions continue to suffer from slow speed or poor internet connectivity.
Once Starlink begins its gradual rollout, Uy said the deployment of high-speed internet in geographically-isolated and disadvantaged areas (GIDA) will be "much faster."
"We're all looking forward to the day that we can really say that the Philippines has full internet coverage and that there will be no sector or no segment of society that has been alienated, that has been isolated, that has been on the downside of the digital divide," he said.
READ: NTC OKs registration of Elon Musk's Starlink
Starlink is expected to provide unprecedented high speed internet access in remote parts of the country once it begins operations within the fourth quarter of 2022 or early next year.
Uy also took note of the simpler and enhanced safety of such a satellite-based internet service.
"In the past, it just doesn't make sense to lay out all of those cables to go there or to build those towers in order to connect a hundred people across three mountains and two rivers away. So, not to mention the risk that these towers are sabotaged by terrorists and the whole community loses connectivity," Uy said.
Starlink, Uy said, has been "very aggressive" in its entry into the Philippine internet service provider (ISP) space and wants the country to be its first site in Southeast Asia.
"We are doing everything we can to roll out the red carpet and help them make it a reality. We're hoping very soon. We're not clear yet on the dates but I'm hoping it will be less than one year," Uy said.
Low Earth-orbit (LEO) satellite technology offers a unique combination of speed, flexibility and ease of setup and are becoming a popular solution for internet connectivity in rural areas.
According to a paper published by the Asian Development Bank, the low altitude of LEO satellites reduces the latency from approximately 477 milliseconds inherent in geostationary Earth orbit (GEO) service to less than 27 milliseconds.
This would further enhance internet quality, enabling remote communities to access services such as online banking, e-learning, and government services. (PNA)