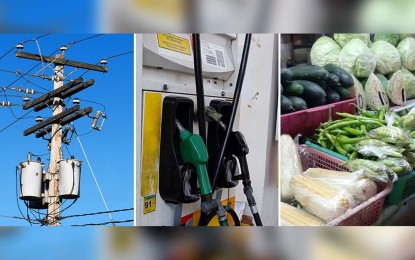 MANILA – The Bangko Sentral ng Pilipinas (BSP) is expected to raise its key rates to about 4 percent in line with ongoing normalization of monetary policy around the world due in part to accelerating inflation rate.
The Asean+3 Macroeconomic Research Office (AMRO) forecasts domestic inflation to average at 4.4 percent this year, exceeding the government's 2-4 percent target band, and at 3.8 percent next year.
In a virtual briefing on Wednesday, AMRO chief economist Dr. Hoe Ee Khor said the ongoing Russia-Ukraine conflict negatively impacts not just the Philippine economy's expansion, but also the rate of price increases due to supply-side factors.
Domestic inflation rate accelerated to 6.1 percent last June, the highest since October 2018, due largely to the rise in prices of oil products and its impact on food and non-food commodities.
The average inflation in the first half of the year stood at 4.4 percent.
With rate of price increases expected to remain elevated, Khor said the off-cycle 75 basis points increase in the BSP's key rates last July 14 is a welcome development.
"We think that it is a preemptive and proactive response to ratcheting inflation," he said.
Khor said "once the economy is entrenched and is ontrack, then there's no reason for the authorities not to withdraw the highly accommodative monetary policy."
He forecasts continued hikes in the BSP rates until they reach the neutral rate, which is around 4 percent.
Khor, however, did not give a specific timeframe.
BSP's key rates have been increased three times to a total of 150 basis points (bps) –25 bps last March, 50 last June, and 75 bps last week.
This brought the central bank's overnight reverse repurchase (RRP) rate to 3.25 percent from record-low of 2 percent after the total of 200 bps reduction in 2020.
The recovery of the Philippine economy is expected to be sustained this year, with an expansion of around 6.9 percent, despite the risks from threats of new coronavirus disease 2019 (Covid-19) variants and weaker global growth.
AMRO released on Wednesday its annual consultation report for the Philippines and it forecasts 2023 domestic growth to moderate to 6.5 percent, to be buoyed by government spending and a stronger private sector.
"Capital flow volatility is expected to rise in 2022 as global financial conditions are set to tighten. In addition, scarring effects caused by the pandemic have become clearer, raising the urgency to take action to build resilient, sustainable, and inclusive long-term growth," the report said.
Khor said signs of economic recovery remain strong, backed partly by the continued reopening of the economy, the rising private investments, and strong external payments position.
He said the scarring effects of the pandemic can be seen in several sectors, such as education and tourism sectors.
He added the Philippine economy is driven mostly by the service sector, which was greatly affected by the lockdowns, but added the sector is recovering albeit slowly "simply because of the nature of products and services." (PNA)