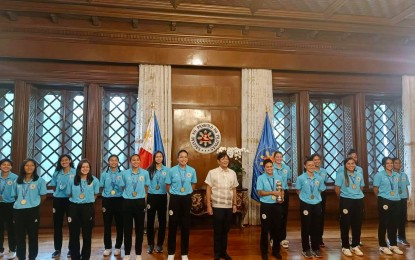 MANILA – President Ferdinand "Bongbong" Marcos Jr. has promised to step up government support for national athletes in honing their potentials, as he congratulated the Philippine Women's National Football team Filipinas for its historic win over weekend.
"We have to do better in terms of government support when it comes to our athletes. Medyo nabawasan nung nawala 'yung sports sa eskuwelahan, when DECS (Department of Education, Culture and Sports) became Department of Education alone, the emphasis on sport became a little bit less," Marcos said during the team's courtesy call in Malacañang on Wednesday.
"But that is something that we really should encourage because sport means more than just playing games. It means developing discipline, learning how to sacrifice, learning to be gracious in victory, learning to work with other people as a team," he added.
In congratulating the members of team Filipinas, Marcos said their feat brought so much joy to their countrymen and made them proud of being Filipino.
The win, he added, "is the greatest gift that you have given your country."
"So I thank you very much, and I congratulate you for this great achievement and great championship," said Marcos.
The President also praised the team for its sacrifices and dedication, particularly as it waded through hurdles caused by pandemic-induced restrictions.
Despite the health crisis, team Filipinas members were able to maintain their fitness, skills and teamwork, he noted.
The team made history Sunday after bagging the country's first Asean Football Federation (AFF) Women's Football championship by dominating the Southeast Asia powerhouse Thailand, 3-0, at the Rizal Memorial Stadium.
Prior to facing Thailand, Filipinas ousted Vietnam, another formidable foe, in the semifinals.
Its latest win is expected to create higher expectations as the team prepares for next year's FIFA showcase to be hosted by Australia and New Zealand. (PND)