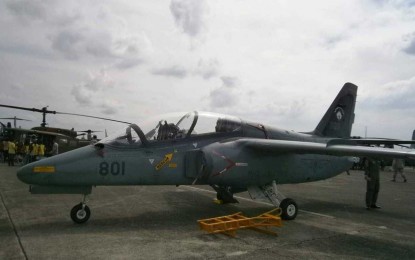 MANILA – The Philippine Air Force (PAF) bared Thursday its remaining sub-sonic SIAI Marchetti S-211 jet trainers are now being utilized for training and other support missions.
This came after the delivery of the 12 units of the Mach 1.5 capable South Korean-made FA-50PH light jet fighters has been completed.
"(The S-211s are now being utilized for) fighter pilot training, close-air support, and maritime patrol over the KIG (Kalayaan Island Ground)," said PAF spokesperson, Col. Maynard Mariano, in a message to the Philippine News Agency.
When asked if there are plans for the PAF to augment or acquire new aircraft to backstop its S-211 aircraft, Mariano said research is now ongoing for its replacement.
"We are planning for a replacement, research is ongoing, and there will be a presentation (of the possible aircraft models) to the senior leadership soon," he added.
The PAF acquired around 25 S-211 units in the 1990s but attrition and lack of spare parts have reduced the number of aircraft in service to about three to five units.
These jets served as the Air Force's sole fighter aircraft following the retirement of the PAF's last seven F-5 aircraft, out of a total of 35, in 2005 due to airframe cracks, high fuel costs, and difficulty in finding spare parts.
The S-211 can carry a crew of two, has a cruise speed of around 667 km/h (414 mph, 360 knots), and can carry guns, rockets, and unguided bombs for close-air support missions. (PNA)