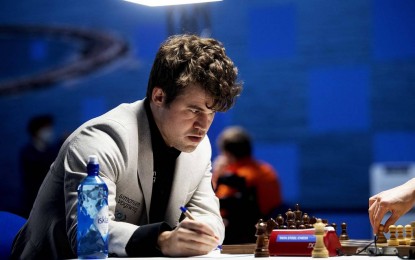 MOSCOW – Norwegian Chess Grandmaster Magnus Carlsen decided against defending his world champion title in a match for the world chess crown against Russia's Ian Nepomniachtchi, the chess24.com web portal announced on Wednesday.
"I am not motivated to play another match," Carlsen said.
"I simply feel that I don't have a lot to gain, I don't particularly like it, and although I'm sure a match would be interesting for historical reasons," Norway's five-time chess world champion was quoted as saying.
Carlsen is currently in Madrid for the conclusion of the Candidates Tournament.
"After the conclusion, I did agree to meet with (FIDE President Arkady) Dvorkovich and (FIDE Director General Emil) Sutovsky from FIDE to talk a little bit," he said. "I did not have any demands or suggestions for that meeting. They did have a couple of suggestions, but the gist of it was that I was there to tell them that I would not defend my title in the next World Championship match, and we had a small discussion. They had some suggestions, some of them I liked, some of them I did not."
International Chess Federation (FIDE) president Arkady Dvorkovich confirmed to TASS later in the day Carlsen's decision to withdraw from the match for the world champion title.
"It is not fake news about Carlsen. However, there is no deadline yet for his decision," Dvorkovich said.
When reached by a TASS correspondent, Russian Presidential Spokesman Dmitry Peskov, who is also the chairman of the Board of Trustees of the Russian Chess Federation, said he regretted Carlsen's decision to quit.
"Indeed it is very regrettable for us. It does not flatter Carlsen," Peskov said. "Anyway, we will be rooting for Ian (Nepomniachtchi) and waiting for him to bring the chess crown to Russia."
The FIDE press office stated later in the day that the Norwegian chess grandmaster did not officially submit his request to withdraw from the tournament for the world champion's title against Nepomniachtchi.
"Magnus (Carlsen) made a public announcement about his intentions and FIDE is obviously aware of it," the press office told TASS. "However, he did not officially set off because he had no contract for the match and there was no deadline set."
Carlsen, 31, has reigned as the world chess champ since 2013 when he outplayed India's Viswanathan Anand. He defended his world chess champion title in a match with Anand in 2014, beat Russia's Sergey Karjakin in a match for the world chess crown in 2016, outperformed Fabiano Caruana of the US in 2018, and fended off Ian Nepomniachtchi in 2021.
On July 3, Nepomniachtchi won the 2022 Candidates Chess Tournament and was granted the right to face the reigning world champion in the World Chess Championship in 2023.
Nepomniachtchi, 31, holds the European champion title (2010) and is a two-time world champion in team tournaments (2013, 2019). He won the Candidates Tournament in 2021 but was edged by Carlsen in December.
After Carlsen announced his decision on Wednesday, Nepomniachtchi is most likely to clash for the world's chess crown with China's Ding Liren, who is his runner-up at the 2022 Candidates Chess Tournament.
Chinese Chess Grandmaster Ding Liren replaced Russia's Sergey Karjakin at the 2022 Candidates Tournament because the Russian chess player had been suspended by FIDE.
On February 28, Karjakin published an open letter in which he supported Russia's special military operation in Ukraine. The next day, FIDE condemned the Russian grandmaster for the public announcement of his political stance, launching a disciplinary case against him.
On March 21, FIDE stated that its Ethics and Disciplinary Commission decided to suspend Russian Chess Grandmaster Karjakin from all competitions for six months.
Commenting on Carlsen's decision, Karjakin stated on his Telegram channel that chaos would set its foothold in the world of chess after the Norwegian player decided to step down.
"Unfortunately, my worst expectations came true. Magnus Carlsen decided against defending his title. Now, I'm afraid that a serious chaos is about to erupt in the world of chess," he wrote. "How can the World Championship be possibly organized without the champion and who will finance it?" (TASS)