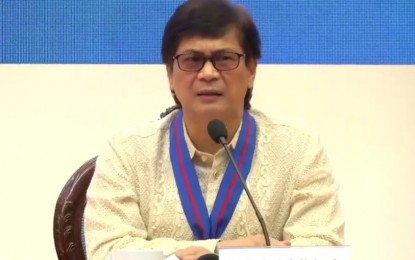 MANILA – Department of the Interior and Local Government (DILG) Secretary Benjamin Abalos Jr. on Thursday cited the need to enhance the skills of police investigators to ensure the conviction of culprits in criminal cases.
In a press briefing at Camp Crame, Abalos said this is part of the efforts to professionalize the police force.
"It is important that our police investigators are well versed in criminal law. Each criminal act has its own elements and for that, each one of the investigators knows these elements very well," he added.
He said enhancing the police's investigation expertise is important as this would determine the fate of a case.
"This single act will determine whether or not the case would be dismissed or not. When it reaches the court, remember, the evidence that is needed in criminal law is proof beyond reasonable doubt," he added.
Abalos said he will order a review of the procedure for picking police investigators.
"We will have to review ano ba at papaano ba kinukuha ang mga imbestigador sa kapulisyahan (what is being done and how these investigators are picked). Ito ba ay volunteer system? Ito ba ay may examination? Kaya ba nila o hindi? (Is this via a volunteer system? Is there an examination for this? Are they able to deliver?," he added.
Based on the latest data, Abalos said the 220,000-strong force has only 22,774 investigators, with only 123 of whom are law graduates.
He added that the DILG, PNP and the Department of Justice (DOJ) are partnering for a "sort of a mentorship" for police investigators to help them gather lawful and fool-proof evidence in cases.
"Remember, we are doing this as the people must have trust in the systems of government. And for this trust to be reinforced, the cases that are filed must result in convictions," he said in a mix of English and Filipino.
From 2016 to July 15, 2022, he said a total of 291,393 drug-related complaints were filed by the PNP.
Of these cases, around 21 percent or 62,000 cases resulted in convictions, 5,551 cases were dismissed by prosecutors while 5,753 cases were dismissed in court.
"Some 223,579 cases or about 77 percent are still pending. Dapat mabantayan ito (We should keep a close watch on these cases)," he said.
Meanwhile, PNP officer-in-charge Lt. Gen. Vicente Danao Jr. thanked the DILG and DOJ for their continued support for the institution.
He said the program will promote a better working relationship between law enforcement agencies.
"This intends to bring together professionals to increase cooperation and unity in our effort on the counter-terrorism and anti-criminality to include information sharing in all agencies. We always instill in every PNP personnel to protect, respect, and fulfill the rights of every citizen and this is significant advocacy of the PNP's goal towards genuine transformation," he said. (PNA)