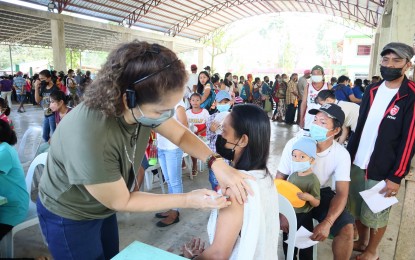 DUMAGUETE CITY – Amid a low vaccination turnout against coronavirus disease (Covid-19), an official on Thursday said Negros Oriental Gov. Pryde Henry Teves wants the mayors to help ramp up the campaign in their localities.
Provincial Legal Officer Ronel Depalubos, Teves' spokesperson, said the governor believes that the local chief executives are in the best position to help the province achieve its target in the vaccination rollout.
"Governor Teves wants the campaign to start with the mayors because they have the direct touch with the people," Depalubos said in mixed English and Cebuano.
He also highlighted the need to improve the information and dissemination campaign to convince people about the benefits of the vaccine against Covid-19.
Some mayors have shown a higher accomplishment rate than the others but this should be a challenge to all of them to get their constituents to be vaccinated, Depalubos said.
Depalubos said the governor will soon meet with the mayors to discuss the matter.
Meanwhile, Assistant Provincial Health Officer Dr. Liland Estacion said the vaccination campaign in Negros Oriental has been slow.
As of July 20, records at her office showed that 667,382 individuals have been fully vaccinated, including those who received the one-shot Jannsen vaccine.
This is just 58.1 percent of the province's total target of 1,148,424, Estacion said.
"This is very disappointing because we have been urging our constituents to avail of the vaccines while they are still available and given for free," she said in mixed English and Cebuano.
She also noted a low turnout in the number of people who received the first booster shot, saying there are those who are no longer interested in getting the additional dose.
Only 98,006 have received the first booster shot over the same target, representing 8.5 percent, Estacion said.
"If the trend continues, it would take a very long time before we can achieve herd immunity," she added. (PNA)