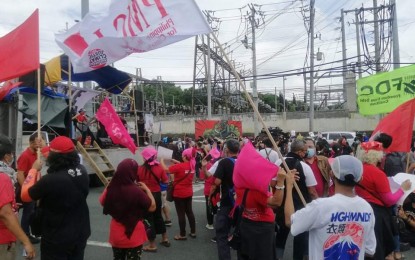 MANILA – The Quezon City government on Tuesday denied the request of the Bagong Alyansang Makabayan (Bayan) to hold its protest rally along Batasan Road on Monday, July 25, for President Ferdinand "Bongbong" Marcos Jr.'s first State of the Nation Address (SONA).
In an interview with state-run PTV4 on Monday, QC Department of Public Order and Safety (DPOS) head Elmo San Diego said as a matter of policy, they normally endorse all similar requests to the QC Police District.
"Their conclusion is that they recommended to deny the request on the basis of traffic issues, and of course, they want the SONA to be peaceful," San Diego said.
"They said that if protesters are allowed to hold their rally near Batasan or along Commonwealth, they might have an issue on safety and security," he added.
On Tuesday, the DPOS sent the letter to Bayan Secretary General Renato Reyes informing him that their request had been denied.
The letter stated that Batasan Road is not a Freedom Park where individuals and groups are allowed to hold their protests, rallies, and mass gathering.
It added that holding rallies outside the designated freedom parks "will greatly affect the normal flow of traffic for motorists traversing the stretch of Batasan Road/Commonwealth Avenue."
On Wednesday, the Philippine National Police (PNP) said there are three designated freedom parks in Quezon City where protesters can hold their activities during the first SONA of Marcos Jr.
PNP director for operations Maj. Gen. Valeriano de Leon said protesters can hold their rallies at the Quezon Memorial Circle, inside the compound of the Commission on Human Rights, and inside the University of the Philippines Diliman campus.
In a statement, the National Capital Region Police Office (NCRPO) said the measure is not a curtailment of the people's right to air their grievances to the government.
"This however is not without limitation. The law imposed upon the leaders and organizers to take all reasonable measures and steps to ensure the peaceful conduct of the public assembly," NCRPO chief, Maj. Gen. Felipe Natividad said.
Natividad, meanwhile, encouraged protesters to make use of the designated freedom parks to continue with the free exercise of their constitutional rights to assembly and expression.
"This is to ensure the free flow of traffic for traveling motorists and commuters and uphold the security measures implemented to secure the first SONA of President Ferdinand "Bongbong" R Marcos Jr. We appeal for the utmost cooperation and understanding from our citizenry as we altogether work in unity towards progress and public safety. (with Lloyd Caliwan/PNA)