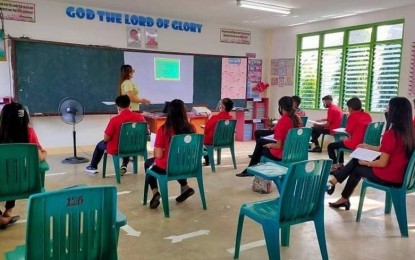 MANILA – A lawmaker on Thursday said healthcare frontliners should be deployed in school campuses for the opening of face-to-face classes this year.
BHW Party-list Rep. Angelica Co said the coronavirus disease (Covid-19) response at this time should have more emphasis on all the schools and campus communities because classes are resuming with face-to-face contact.
Co said the Department of Health and local government units should deploy barangay health workers to help school principals protect students and teachers from the "many health risks out there".
"Schools and barangays will have to work together more now. Some kids going back to school would probably have difficulties involving social skills, mental health, undernourishment, lacking mandatory vaccines, on top of learning deficiencies because of two years of pandemic," she said.
She noted that the DOH should provide additional honorarium or stipend to the barangay health workers that will be deployed to schools in a short duration as this would be another responsibility in addition to their current responsibilities.
Aside from the deployment of healthcare frontliners, she said the best defense would be the inoculation of primary Covid-19 doses and booster shots, adding that the goal should be "all students vaxxed and boosted".
She said teachers and other personnel who are not vaccinated but required to report for work could have movements limited to a separate building on campus, or they could also have less workdays on campus and more work at home.
The Department of Education, she said, should be transparent on the vaccination status of their personnel and students on a per school basis.
"There should be weekly public reporting from each school principal up to the DepEd central office," she said.
Education Secretary and Vice President Sara Duterte said the DepEd is set to draft a plan prioritizing face-to-face learning, and consider blended modalities for basic education in the country.
Duterte said this came after she inquired about the possibility of "institutionalizing blended learning mode" to President Ferdinand Marcos Jr. during the third Cabinet meeting.
"The President agreed that a plan should be made with a caveat that face-to-face classes shall be the priority and blended modality shall be considered only in specific schools and areas with special circumstances," she said.
Duterte, meanwhile, stood pat on the DepEd's stance to push for mandatory face-to-face classes starting Nov. 2.
Marcos said during the Cabinet meeting that schools should work under the in-person learning setup, and the blended mode should only be allowed in particular areas.
"We continue with blended learning pero in very specific places lamang (but only in specific places). As much as possible, face-to-face... Ang gawin na lang natin, i-identify saan 'yung areas na magbe-blended learning para maka-focus tayo. Ihanda 'yung mga devices at mga kailangan nila na noong pandemic hindi nasu-supplyan sa mga bata (What we should do is to identify where to [implement] blended learning so we can focus. Ready the devices needed which were not supplied to learners during the pandemic)," he said. (PNA)