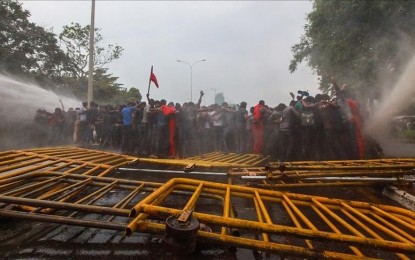 MANILA – The Catholic Bishops' Conference of the Philippines (CBCP) on Friday called on Filipinos in Sri Lanka to cooperate with repatriation efforts undertaken by the Philippine government.
"In this difficult and uncertain time we appeal to our Filipinos to heed the call of government officials for cooperation and to collaborate with them. It is for their own good and well-being," Bishop Ruperto Santos, chairperson of the CBCP's Episcopal Commission on Migrants and Itinerant People (ECMI), said in an interview with Church-run Radio Veritas.
The Bataan prelate also lauded the government's efforts to help distressed Filipinos in the South Asian country which grapples with its worst economic crisis in recent years.
Santos also reminded Filipinos staying in Sri Lanka to continue to be careful while following the instructions from authorities.
"Let us also pray for peace in Sri Lanka, that fostering strength and unity they will surpass that crisis and attain the way to progress and prosperity," he said.
Based on data from the Department of Foreign Affairs (DFA), over 700 overseas Filipino workers (OFWs) and Filipino migrants remain in Sri Lanka.
On Wedneday, the DFA said some 115 Filipinos residing in Sri Lanka want to return to the Philippines.
Foreign Affairs Undersecretary for Migrant Workers Affairs Eduardo de Vega assured the remaining 600 Filipinos of assistance despite difficult difficulties in sending cash aid amid the regulations imposed by the Sri Lankan government.
The DFA earlier raised Alert Level 2 in Sri Lanka, which means there will be no new deployment of OFWs and only those with existing employment contracts are allowed to return to the country. (PNA)