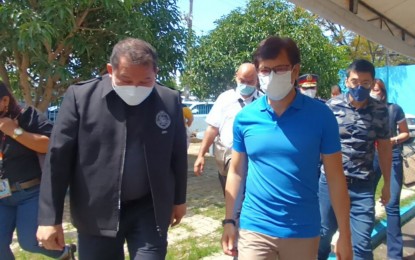 TACLOBAN CITY – Department of the Interior and Local Government (DILG) Secretary Benjamin Abalos Jr. has asked the National Bureau of Investigation to look into the alleged hazing incident that sent eight trainees of the Bureau of Fire Protection (BFP) here to hospitals.
During a visit on Friday, Abalos said the hazing allegation is serious and the NBI should hear the sides of those involved.
"We want to know the truth if there's a need to file cases, how to improve the system, and how to help the victims," Abalos told reporters.
The Secretary visited the NBI regional office after receiving letters from three out of eight trainees who suffered kidney injuries during the training.
He said they expect to get a report from the NBI soon.
The eight BFP trainees were admitted to private hospitals between July 3 and 5 but some are still undergoing treatment until this week.
Abalos visited some of the trainees at the hospital.
Documents showed that the trainees suffered from Rhabdomyolysis, which is a serious syndrome due to a direct or indirect muscle injury resulting in the death of muscle fibers and release of their contents into the bloodstream, according to webmd.com.
The condition leads to serious complications such as kidney failure.
Joebelle Ferreras, older sister of one of the trainees, in a Facebook post on July 14 said her brother, Jan Allen, 25, was "diagnosed with acute kidney failure and liver damage due to strenuous physical activity."
Ferreras launched an online drive to raise funds for her brother's PHP114,000 hospital bill.
Although already discharged from the hospital, Jan Allen still has to "undergo a series of dialysis sessions until his creatinine levels comes back to normal."
"They are too young to suffer kidney problems. All responsible should be held liable and we are serious on this," Abalos said.
NBI Eastern Visayas Regional Director Romy Bon Huy Lim said the families of the three trainees sent a letter to their office, asking for an investigation of the incident.
Abalos committed to give PHP50,000 financial assistance to each of the victims through his family's Ciara Marie Abalos Foundation, named after his 19-year-old daughter who died in 2005 due to bacterial infections.
Reached for comment, BFP Eastern Visayas Regional Director Chief Supt. Rodolfo Denaga welcomed the NBI investigation.
Denaga said there was no hazing since the training was held in a public place – the Leyte Sports Development Complex.
Based on initial findings, the victims were unprepared for training although physically fit based on their agility and medical tests, Denaga said.
"There's no such thing as excessive exercise since the training is covered by program of instruction from our national office. Their physical training are properly monitored by medical doctors," he added.
The victims are among the 110 trainees who started the 45-day training on July 1. (PNA)