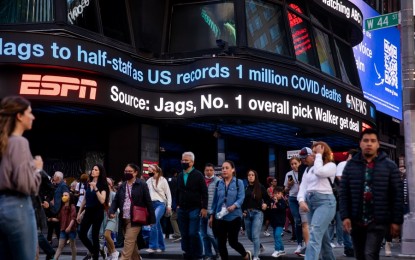 MANILA – Filipinos in New York are advised once again to remain vigilant as the victims of hate crimes there climb to 42.
The Philippine Consulate General in New York on Friday reported that a 51-year-old Filipina has become the 42nd case of a hate-related incident or criminal act involving a member of the Filipino community there since last year.
The victim was verbally assaulted and harassed by what appeared to be a homeless woman who also tried to prevent her from boarding her train at the 63rd Drive Subway Station in Rego Park, Queens on Saturday afternoon.
"Kababayan residing in New York and those on temporary visits are reminded to always remain vigilant and to take the necessary precautions, especially when walking in the streets or taking mass transport," it said.
The Consulate also asked all Filipinos who may find themselves in distress due to hate incidents or other crimes to call the hotlines of the Consulate at +1-917-294-0196 and +1-917- 239-4118 for assistance or 911 for emergencies.
The latest statistics released by the New York City Police Department (NYPD) indicated a 37 percent increase in major crimes citywide.
Citing the NYPD, the Consulate said grand larceny was up 49 percent this year; grand larceny auto, 46.2 percent; robbery, 39.2 percent; and burglary 32.9 percent.
Transit crimes and hate crimes have also increased by 55.5 percent and 12.6 percent, respectively, compared to last year. (PNA)