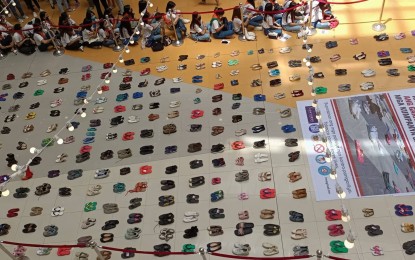 ILOILO CITY – The Iloilo City Anti-Smoking Task Force (ICAST) and a public interest law organization on Friday called for an end to smoking through the use of an art installation of 321 pairs of shoes and slippers depicting the number of people dying daily due to tobacco-related diseases.
"We ponder on the 321 deaths. The challenge is will this generation finally say no to smoking and vaping given these deaths? Or be another generation represented by the empty footwear here in front. I hope that these footwear will represent our journey towards wellness and progress of Iloilo and not towards the deadly path of smoking," said ICAST Executive Director Iñigo Garingalao, in his message during the program.
After Friday's exhibit at the SM City here, the pairs of shoes and slippers will be donated to the Aeta community in Lanit, Jaro and to the Dalayunan Home for the Boys in Lapuz district.
ICAST has been at the forefront of the implementation of the city's Comprehensive Anti-Smoking Ordinance, even if the fight against smoking is an "uphill climb" since it is so "ingrained" in the Ilonggo culture, Garingalao said.
"In Iloilo City we fight against this culture to introduce a new normal that should lessen the 321 deaths. Our mayor is supportive of that because he knows that deaths will affect the progress of the city," he added.
Dr. Althea Tampos of the Iloilo City Health Office said that based on the Global Anti-Tobacco Survey (GATS), 96 to 98 percent of those who smoke know the ill effects of the habit such as "asthma, skin diseases, and stroke."
"One stick has more than 4,000 chemicals that can damage our body," she said, and "can also decrease life expectancy by 10 years".
Atty. Sophia San Luis, executive director of ImagineLaw, the public interest law group, said they started the art installation back in September 2021 in Quezon City upon seeing the "pervasive influence of the tobacco industry in public health policy making".
"These 321 shoes that you see before you, they depict the 321 people that we lose daily due to the aggressive marketing and other handed tactics of the tobacco industry," she said in her message.
Since these smokers are gone, they could no longer contribute to nation-building, she added. (PNA)