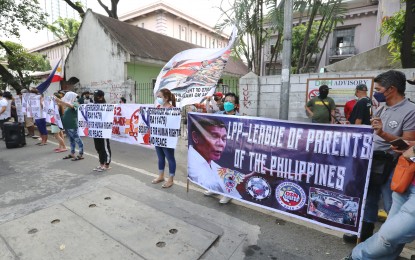 MANILA – Children should be spared from digitalized recruitment schemes of the Communist Party of the Philippines-New People's Army-National Democratic Front (CPP-NPA-NDF) and its front organizations, the leader of a parents' group said Friday.
The League of Parents of the Philippines (LPP) appealed to the national government to investigate the use by the CPP-NPA of Spotify, an audio streaming and media services provider, and other social media platforms to entice more children to join the communist armed struggle.
"We strongly condemn the deception of our children by these communist terrorist groups and its sympathizers using the Spotify platform," said Remy Rosadio, LPP president, in a text message on Friday.
Rosadio said the government must probe the infiltration of communist groups in various social media platforms.
"I am appealing to President Bongbong Marcos, Vice President Sara Duterte, and all the concerned government agencies to look into this matter and to restrict all CPP-NPA accounts and investigate the other outlets being used by their front organization for deception and recruitment," she said.
Rosadio said Duterte, as Education Secretary, can do something about the reported recruitment.
"Innocent children are their easy preys in online videos. Almost all children staying at home are relying on YouTube and other online entertainment like Facebook, Twitter, Instagram, and Spotify to ease their boredom while staying at home," she said.
Rosario added that other groups like Anakbayan, League of Filipino Students, and Kabataan are similarly invading Spotify to attract the attention of children.
She said even former CPP-NPA rebels attest that there is massive exploitation of children by spreading communist ideologies online, even if the National Telecommunications Commission has already blocked websites connected with the CPP-NPA-NDF.
She said the course on Maikling Kurso sa Lipunan at Rebolusyong Pilipino (MKLRP, loosely translated as Short Course on Society and the Revolutionary Filipino) is being played on Spotify as an educational podcast under the "History" category.
The first chapter of the audiobook became available to the public in October last year while the latest episode was aired just on Wednesday.
Other communist-related audiobooks on Spotify are Rakenrol: Salaysayan sa Araling Pilipino with 26 episodes and Aling Aktibista (The Activist), popularly known as ARAK, reportedly a required course for activists.
While Spotify itself is not hosting podcasts, any user with an account can upload a podcast by providing the link to the RSS (Really Simple Syndication) feed and hosting partner.
RSS contains all the details of a content uploaded online, like full text of the content or a summary, publication date, author, and link.
"These legal fronts of (CPP founder) Joma Sison are heartless and have no conscience at all. The only thing important to them is how to recruit more youths so they can continue the NPA's violent attacks," Rosadio said.
Yakap ng Magulang president Relissa Santos Lucena, whose daughter, Alicia, was recruited by CPP-NPA's front organizations, said the podcasts tackling MKLRP and ARAK are "very alarming".
"Lahat gagawin nila para makuha ang ating mga anak. Huwag natin silang bibigyan ng pagkakataon madala nila ang ating mga kabataan (They will do everything to get our children. Let's not give them a chance to recruit our youths)," she said in a statement.
Lorraine Badoy, former National Task Force to End Local Communist Armed Conflict spokesperson for sectoral concerns, reminded parents to always keep an eye on their children.
"Hindi ho ito exaggeration. Napakarami ng mga anak natin ang nagkandamatay dahil sa mga demonyong mga organisasyon na 'yan (This is not an exaggeration. Many of our children have died because of these evil organizations)," Badoy said in a statement.
"Malakas ang online presence nila so kahit na nasa loob ng bahay nyo ang anak nyo (They have a strong online presence so even if your child is inside your house)," she said. "So mag-double time kayo sa pagbabantay at pag-educate sa sarili at sa mga anak nyo (Double time in monitoring your children and educating them and yourselves). Your ignorance is their power over you," she added.
The CPP-NPA is listed as a terrorist organization by the United States, European Union, the United Kingdom, Australia, Canada, New Zealand, and the Philippines.
The Anti-Terrorism Council also formally designated the NDF as a terrorist organization on June 23, 2021, citing it as "an integral and inseparable part" of the CPP-NPA that was created in April 1973. (PNA)