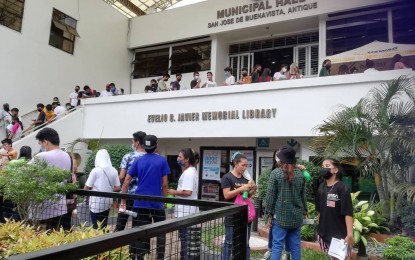 SAN JOSE DE BUENAVISTA, Antique – Around 22,000 voters have already registered for the Dec. 5, 2022 synchronized barangay and Sangguniang Kabataan (SK) elections as of Friday, a day before the registration deadline.
"We are reminding the voters that tomorrow, July 23, will already be the last day for the registration," said lawyer Tomas Valera, Commission on Elections (Comelec) assistant regional director and concurrent Antique provincial election supervisor, in an interview.
Since the start of the registration on July 4, he said the process went smoothly and no major problems were encountered.
Rea Amor, 17, from Barangay 6, was one of those who trooped to the Comelec municipal office here so she could vote for their SK officials who have the potential to lead for the development of the youth and help improve their barangay.
"I am only able to register now because I had been preoccupied the past days as a student," she said.
Amor, a senior high school student of the Antique National School in this capital town, said she had to comply first with school requirements before she registered.
She was accompanied by her friend, Darlene Peingco, who is already a registered voter but guided her on the registration process.
"I am appealing to the other youth to already take time to have themselves registered so that they could also participate in the election," Peingco said.
She said that by participating in the barangay and SK elections, they can also participate in the democratic process and be able to choose responsible leaders.
Registered voters, 15 to 30 years old, can vote for SK officials while those 18 to 30 years old can also vote for their barangay officials should the election pushes through on December 5. (PNA)