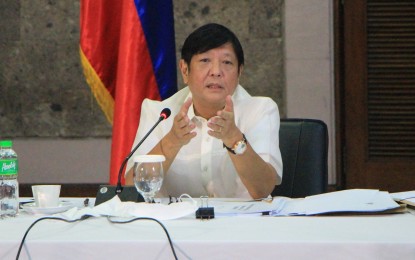 MANILA – Lawmakers in the House of Representatives on Friday bared a list of key issues and priority measures that they wished President Ferdinand "Bongbong" Marcos Jr. would include in his first State of the Nation Address (SONA) on Monday.
Quezon Representative Reynan Arrogancia said he is looking forward to hearing from President Marcos' some broad strokes and initial first steps on the mass transportation crisis, education budget priorities, small business recovery, Virology Institute, and food supply.
"I am open to working with the executive agencies and the Congress leadership on these ideas. I support the call for the convening of the LEDAC (Legislative-Executive Development Advisory Council)," Arrogancia said in a statement.
To avert a mass transportation crisis, Arrogancia said the government should focus on railways, which should be the backbone of long-haul mass land transport, while bus lines connect cities and towns parallel to and linking to the rails via short-haul transport, leading to safer, faster turnaround routes for better economies of scale.
"The Philippine National Railways (PNR) South Line now runs to until Lucena City only. I long for the day when it will extend to Sorsogon, onwards to Leyte and Samar, and until as far south as General Santos City and Davao City to the future Mindanao railway network," he said.
He said the PNR South Line must connect Lucena to Naga City and Legazpi City, and more coaches should be running on the San Pablo City to Lucena City route.
He proposed at least a 50-percent government subsidy of train and light rail fares plus performance benchmarks starting 2023.
"I believe profit should not be the primary motive for operating our light rails and railways. Public service must have precedence over profit," he said.
He also emphasized the need to implement the route rationalization plan for public utility vehicles (PUVs), which Department of Transportation (DOTr) Secretary Jaime Bautista is already on in preparation for the full resumption of face-to-face classes in November.
For education, Arrogancia said it was high time for the Department of Education (DepEd) to focus more on quality instead of mere access.
"By education quality, I mean recruiting, training, and retaining the best, the brightest, and most compassionate teachers. Quality also means better broadband signals at schools and at home and enough books at school and at home, as well as affordable leisure, reading books. Quality also includes having nurses, doctors, dentists, psychologists, and medical technologists deployed to every school clinic in every school with over 2000 students," he said.
He said there should be a five-year moratorium on the creation of new public schools and campuses.
"There are enough public schools and campuses now. While the moratorium is in effect, classrooms and buildings can be added to or replace what are in place," he said.
He said the government should implement the Ease of Doing Business - Anti-Red Tape Authority Law given the initial delays due to the pandemic.
On taxation of small businesses and online sellers, he suggested the easier-to-comply-with option of affordable flat rates for micro-registrants, online sellers, and some small and medium enterprises for the first five years the rates take effect.
He said biosecurity microbiology institute will also be crucial to our defense and offense against future and recurring pandemics, epidemics, outbreaks, and infestations. "We need this urgently to save lives and livelihoods, as well as protect our food supply," he said.
To ensure affordable food prices, he said the government should make sure supplies are enough when and where consumers need them.
"For this, we need commodities trading, mobile apps connecting food producers to retailers, and an intelligent database on food supplies and trading," he said.
For his part, Senior Citizen Party-list Rep. Rodolfo Ordanes said Marcos should sign into law or allow to lapse into law House Bill 9459 increasing the social pension of indigent senior citizens to PHP1,000 per month from PHP500 per month. HB 9459 was transmitted to the President last June 29.
"Our preference is for there to be a signing ceremony since HB 9459 is a significant piece of legislation because it doubles the amount of the social pension for indigent seniors and because it will have a significant impact on the daily lives of all the beneficiaries. But if a signing ceremony is not feasible, then simply letting the bill lapse into law would be fine," he said.
Ordanes said he would refile a bill proposing amendments to the Centenarians Act and push for its approval by August.
He also wants President Marcos to mention the Sangguniang Seniors bill, which would allow for seniors' concerns and participation in all local government levels.
"We saw this need because of the significant progress on devolution. We want to make sure seniors are not forgotten in devolution," he said.
BHW Party-list Rep. Angelica Natasha Co expressed hope for President Marcos to certify as urgent the proposed Magna Carta of Barangay Health Workers, which was unable to gain traction in the Senate for lack of material time and because of the higher priority given to pandemic response measures and economic reforms.
"This time around I am hoping the 18th Congress House-approved third reading version will serve as the working document of the technical working group because that is already the polished version. The sooner the bill is sent to the Senate, the better the chances of it becoming law, avoiding the fate that befell it the last time around," Co said.
Co said she is expecting a status report on inflation and a detailed-enough road map on how the elevated monthly inflation of above 6 percent will be brought down not just statistically but in ways felt by all Filipino households.
"BHW Party-list is concerned about inflation because high prices of food, fuel, transport, and utilities mean less cash in the household budget for health and personal care needs. An aggressive campaign to bring down prices by stabilizing food supplies should be the first priority item followed by targeted subsidies on fuel, transport, and utilities," she said.
She said she would like to hear in the SONA some details on how to fully inoculate the unvaccinated and unboosted against the coronavirus disease, especially in Mindanao and remote areas of Luzon and the Visayas. (PNA)