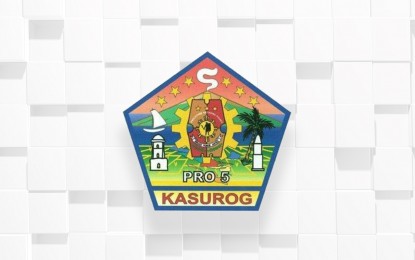 LEGAZPI CITY – Another member of the Communist Party of the Philippines-New People's Army (CPP-NPA) surrendered to police authorities in Cataingan, Masbate on Friday.
Maj. Malu Calubaquib, Police Regional Office in Bicol (PRO-5) spokesperson, identified the surrenderer as "Ka Ruben", 41, of Cataingan town.
"He is an active member of the Larangan 2 (L2), Komiteng Probinsya 4 (KP4) Bicol Regional Party Committee (BRPC) under Rogelio Suson @ "Ka Manong" command, appeared and voluntarily surrendered to the operatives of Masbate 2nd Provincial Mobile Force Company," she said in a statement.
She said the successful surrender was a result of the series of negotiations conducted by the unit consistent with Executive Order (EO) No. 70.
EO 70, signed in December 2018, aims to "provide an efficient mechanism and structure for the implementation of the whole-of-nation approach to aid in the realization of collective aspirations for inclusive and sustainable peace."
Calubaquib said the surrenderer started to be a member of the leftist group on Aug. 20, 2010 and was recruited by a certain Ka Kading at Barangay Manlut-od in Placer town, Masbate.
"He confessed that he was part of the offensive attacks and violent schemes of the NPA in the province. 'Ruben' also stated that he wanted to start a new life and finally leave the armed struggle that hindered him and his family to live a normal life," she added.
Authorities had also taken the necessary measures in preparation for his enrollment in the government's Enhanced Comprehensive Local Integration Program (E-CLIP). The program shall pave the way to reintegrate him back into the community and help him begin a new chapter away from the influence of the rebel groups.
Meanwhile, an NPA combatant was collared by police operatives in Cawayan, Masbate on Thursday.
The PRO-5 identified the suspect as Benny Turing a.k.a. Geny, 52, a resident of Barangay Libertad, Cawayan, Masbate.
Based on the report, joint operatives of Cawayan police station, together with other police units, served the warrant of arrest for robbery with homicide with no bail recommended.
The report added the suspect is affiliated with the Larangan 2, Komite ng Probinsya 4 under Ruel Ybanez @GEMO command which operates in the 3rd district of Masbate.
"Bicol police shall continue its anti-criminality operation to apprehend wanted persons with pending cases. It shall coordinate with its partner agencies for swift action and ease of transaction on operations to be launched," the PRO-5 report said.
The CPP-NPA is listed as a terrorist organization by the United States, European Union, the United Kingdom, Australia, Canada, New Zealand, and the Philippines.
The Anti-Terrorism Council also formally designated the National Democratic Front as a terrorist organization on June 23, 2021, citing it as "an integral and inseparable part" of the CPP-NPA created in April 1973. (PNA)