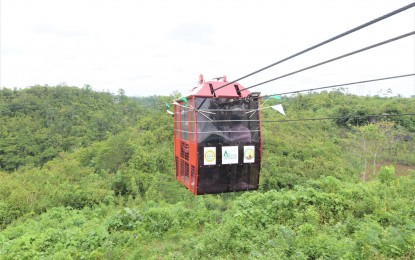 BACOLOD CITY – The installation of the PHP2-million agricultural tramline in the upland village of Kabankalan City in southern Negros Occidental now make the transport of agricultural goods much faster and easier for farmers in the area.
After its inauguration on Thursday, the provincial government-funded Tagukon Agricultural Tramline Project will serve the members of Minaluha Diversified Farmers Association and Bagacay Diversified Farmers Association, who will also oversee its operation and management.
"Make good use of the project entrusted to you. This is a big help to your livelihood," Governor Eugenio Jose Lacson told the beneficiaries during the turn-over ceremony.
Lacson said the hauling facility was initially put up during the term of his predecessor, the late governor Alfredo Marañon Jr., and has been improved and upgraded under his administration.
Lacson added that with its quality, the project can be considered the "best tramline all over the country", based on the assessment of Central Philippines State University (CPSU) president Aladino Moraca.
Traversing across a river between two stations, from Barangay Tagukon to Barangay Inapoy, the tramline can carry up to 350 kilos of agricultural goods such as corn, banana, coconut, fruits, vegetables, and other high-value crops.
At a distance of 320 meters, the travel time is only two minutes and 20 seconds.
Previously, it would take almost two hours for farmers and residents to travel between the two villages.
Tagukon village chief Angel Fernando, a member of the indigenous people's community, said they previously had to walk and ride a boat to get to the other side.
"This project will make our lives here easier," he said.
As their commitment to the project, Moraca said the CPSU, whose main campus is located in Kabankalan City, will help oversee the maintenance of the tramline and install a sensor device on the facility for them to be able to monitor its operation from the school campus.
In 2019, the provincial government also installed a similar PHP3.995 million agricultural tramline in the upland village of Patag in Silay City in the northern part of the province. (PNA)