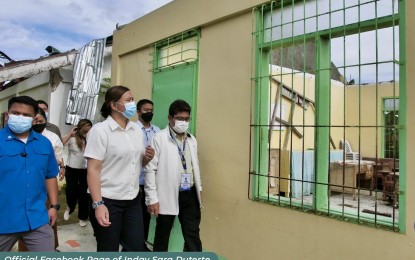 MANILA – Vice President and Education Secretary Sara Duterte on Friday visited schools in Bohol damaged by Typhoon Odette in December last year and was awed by the unity and resilience of the people to recover from the calamity.
In her speech delivered during the province's 168th founding anniversary, Duterte said the calamity was "no match" to the leaders of Bohol as well as the cooperation of residents.
"Bohol is dear to my heart. I was with you when you surmounted the devastation of Typhoon Odette. Those were difficult, sleepless days and nights for all of you. Yet, I witnessed how you ascended to acceptance, forgiveness, and starting anew," she said.
She added that through unity, Boholanos will fully recover from the effects of the calamity.
"Pinaagi sa inyong pagkahiusa, walay duha-duha nga maabot gayud ang adlaw, nga makita ninyo ang bunga sa inyong paningkamot (Through your unity, there is no doubt that the day will come when you will see the fruit of your efforts)," she said.
The Vice President also urged Boholanos to show their support for the Marcos administration.
"Let us keep one another in friendship, prayer, and pride as we take the next steps of recovering from the Covid-19 pandemic. I ask for the Boholanos' support as the new administration makes decisions in our best interests," she said.
Duterte talked to teachers and personnel of Clarin National School of Fisheries, one of the schools destroyed by "Odette", and found out about their needs.
About 200,000 families were affected by the typhoon while power supply took more than a month to restore in some towns, according to the provincial government
Even the world-famous Chocolate Hills sustained scars while mangrove plantations were destroyed. (PNA)