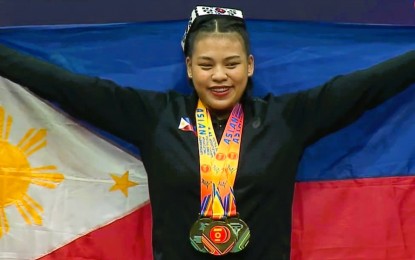 MANILA – Vanessa Sarno of Bohol bagged three gold medals to cap the Philippines' campaign in the Asian Youth and Junior Weightlifting Championships at the Uzbekistan Sports Complex in Tashkent City on Friday night.
Considered as heir apparent to Tokyo Olympics gold medalist Hidilyn Diaz, the 17-year-old Sarno did not disappoint as she tallied 230kg. (100kg. in snatch and 130kg. in clean and jerk) to claim the Junior women's 71kg. category title.
Anggi Restu of Indonesia finished second with 212kg. (92-120) while Kim Hye-min of Korea placed third with 211kg. (93-118).
Sarno's three-gold performance gave the Philippines a total of 15 gold medals, which is the country's best finish in the tournament.
The other medal winners were Angeline Colonia (2 golds and 1 silver, Youth women's 40kg. category), Rose Jean Ramos (3 golds, Youth women's 45kg. category; 1 gold, 1 silver, and 1 bronze, Junior division), Rosalinda Faustino (3 golds, Youth women's 49kg. category), Rosegie Ramos (3 golds, Junior women's 49kg. category) and Prince Keil delos Santos (2 bronzes, Youth men's 49kg. category).
Sarno, who hails from Barangay Bool in Tagbilaran City, had an impressive showing in May at the Vietnam Southeast Asian Games in Hanoi where she set new records in snatch (104kg.), clean and jerk (135kg.), and total (239kg.) to win the gold medal.
The 5-foot-4 Sarno was crowned champion at the 2021 Asian Championships, also held in Tashkent, Uzbekistan. She pocketed the silver medal in snatch (101kg.) but took the gold medal in clean and jerk (128kg.) and total (229kg.).
Samahang Weightlifting ng Pilipinas president Monico Puentevella sees a very bright future for Sarno.
"She's ready for Paris 2024 but she will have to work harder and I'll make sure of that. Yes, this is so far the best in Asian youth and juniors. In the past, even one gold by Sarno in North Korea made me happy. Now with 15, what more can we ask? Fifteen times our anthem was played. To all the coaches under Tony Agustin, our Board, parents, Philippine Sports Commission, and MVP Sports Foundation, salamat (thank you). But most of all, to God be the glory. Paris 2024 and Los Angeles 2028, here we come. Para sa bayan ito (This is for the country)," said Puentevella, who was inducted into the International Weightlifting Federation Hall of Fame last month.
Sarno, an incoming Grade 11 student at the Bohol Institute of Technology International College, trains at the gym of former national lifters Nicolas Jaluag and his wife Liza Danao in Dauis town near Tagbilaran City.
"I am happy that she won three gold medals in Uzbekistan. Her success is a product of hard work," said Jaluag, a member of the national team coaching staff since 2012. He retired as an athlete after winning the bronze medal at the 2001 SEA Games.
Sarno joined the national training pool after winning the 32kg. category gold medal at the 2013 Batang Pinoy National Finals in Bacolod City, Negros Occidental. Her first international tournament was an invitational in Indonesia. (PNA)