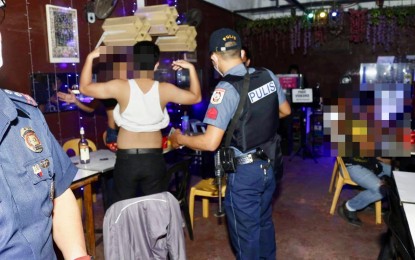 CAGAYAN DE ORO CITY – A man was killed in a shooting incident at a bar in the capital city of Misamis Oriental, early Saturday morning.
Police authorities identified the victim as John Majorinos Avelino, originally a resident of Opol, Misamis Oriental. Police have yet to arrest three assailants behind the attack.
After the fatal shooting and other crime incidents since he took office on July 1, Cagayan de Oro Mayor Rolando Uy said in a statement that he has requested police visibility and the conduct of patrols in the city's main streets.
Uy said he will also convene the City Peace and Order Council to enact measures in addressing the prevalence of crimes.
The shooting of Avelino happened as the Regulatory Compliance Board (RCB) of Cagayan de Oro City reminded the public and local businesses about liquor regulations and maintaining peace and order.
RCB chief Jose Edgardo Uy, in a statement on Facebook on Friday, stressed the importance of compliance by businesses that run night bars and restaurants after the office received various complaints, especially in areas around Vicente Roa and Corrales Streets, and the Uptown area.
He said most complaints are related to loud sounds even past midnight, and disorderly behavior resulting in some crimes.
"Business owners need to have responsibilities [over] their customers. Intoxicated customers should no longer be served with liquor, instead, they should advise these customers to go home," Uy said in the vernacular.
He said maintaining peace and order within the premises of business establishments would be good not only for the public but also for the business owners as well.
Also on Friday, the RCB joined the Cagayan de Oro City Police Office (COCPO) in visiting night bars and restaurants to conduct "Oplan Rekisa."
The RCB reminded the public that drinking alcoholic beverages, liquor, and other intoxicating drinks in public places is prohibited under City Ordinance 13855-2020.
'Manageable' incidents
Meanwhile, Lt. Col. Surki Sereñas, COCPO's Deputy Director for Operations, in an earlier interview, said crime incidents for July remained manageable and the city's peace and order situation is generally peaceful.
He said most of the incidents recorded in different police stations in the city have been addressed and suspects have been charged.
"We can't please everybody (those who criticized the police), but the police have been doing its mandate always," Sereñas said.
In July alone, different police precincts under the COCPO handled several robbery cases, including in a rice warehouse in Zayas, Barangay Carmen where an armed group entered the premises.
Meanwhile, two suspects in the rape of a woman and the killing of her boyfriend in Barangay Lapasan have also been apprehended and charged.
Another case was filed before a suspect who held hostage his own mother in Barangay 13 last week, which resulted in the injury of two responding policemen. They are already in stable condition.
Several petty crimes such as scuffles in the city's night bars were also recorded.
Sereñas attributed the incidents to the coronavirus diseases 2019 (Covid-19) pandemic which has given the public a sense of security for having fewer or no crime incidents because of community quarantines.
"During lockdowns, people have limited movements that they could not go out, but now (with the easing of restrictions), everyone is almost free to move in the streets, public plaza," he said.
Sereñas also said the crime incidents are not connected to the change of political leadership in the city.
"It's quite unfair to link them, (as there is) no scientific connection, or factual connection between change of (political) leadership and crimes," he said. (PNA)