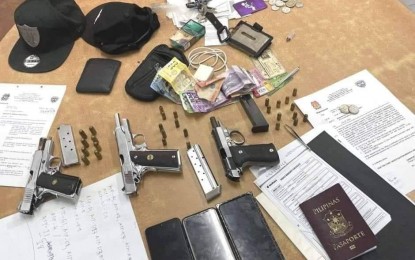 MANILA – The Philippine National Police-Highway Patrol Group (PNP-HPG) said three persons were arrested in violation of the gun ban that kicked off Friday in Metro Manila as part of security measures for the first State of the Nation Address (SONA) of President Ferdinand "Bongbong" Marcos Jr. on July 25, Monday.
In a statement on Saturday, Maj. Joselito Quila of the Regional Highway Patrol Unit-National Capital Region (RHPU-NCR) identified the suspects as Kenneth Suazo, 35; Edison Tauro, 31; and Rocky Claud Rol, 37; who were all arrested during an anti-carnapping operation along the EDSA-Quezon Avenue area on Friday when the operatives flagged their Suzuki Ciaz for sporting an improvised plate number.
Upon getting flagged, the driver presented the car's documents, which the operating team quickly verified to be registered to a Toyota Corolla. Alerted by the violation of illegal transfer of plate, the operating team noticed the unusual behavior of the driver and his two passengers, after which one operative spotted a firearm in the possession of one of the passengers while they were being interviewed.
A search-and-frisk was immediately done on all occupants and the operating team was able to recover three pistols.
The suspects are presently held at the RHPU-NCR detention facility in Camp Crame, Quezon City before their turnover to the court.
Meanwhile, Maj. Gen. Valeriano de Leon, PNP director for operations, said the gun ban, which will last until July 27 coincided with the activation of the Task Force Manila Shield.
"We are asking for understanding from the public for the implementation of the strict security measures in Metro Manila starting today (Friday). These security measures are necessary to ensure the safety of everyone, especially since our Commander-in-Chief, President Bongbong Marcos, will discuss his plans for the country on Monday," de Leon said in a statement.
De Leon earlier warned that licensed firearms owners caught violating the gun ban may lose their privilege to own firearms perpetually.
"As responsible gun owners, you have the obligation to follow the rules and orders, especially those coming from the PNP, in order for you to avoid legal trouble and other consequences," he said.
De Leon said the activation of the task force means more checkpoints would be set up at Metro Manila borders, especially in Quezon City, where Marcos will deliver his SONA at the Batasang Pambansa.
Almost 22,000 police personnel and force multipliers are expected to be deployed for the SONA. Their tasks include the maintenance of peace and order and ensuring the smooth flow of traffic.
De Leon urged organizers of SONA protest actions to cooperate with the security measures to prevent disturbance of traffic flow and public order along major roads in Quezon City.
"We have designated freedom parks where they can hold their activities even without permits. This is our way of recognizing their rights to assemble and air whatever their concerns are, " he said. (PNA)