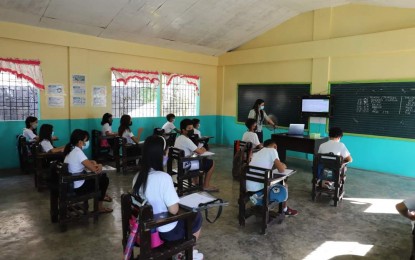 MANILA – The resumption of face-to-face classes is a vital component to ensuring the right to accessible and quality education, the Commission on Human Rights (CHR) said on Saturday.
As the Department of Education (DepEd) gears toward resumption of physical classes in most schools when the new academic year opens August 22, the CHR said it is equally important to ensure the safety of learners, educators, and school personnel amid the continuing Covid-19 pandemic.
The education sector must also be prepared for the emergence of coronavirus variants that pose new threats, according to a statement by Jacqueline Ann de Guia, CHR executive director.
At the same time, De Guia welcomed the "compassionate" decision of Vice President and Education Secretary Sara Duterte to not require uniforms, a move that will ease the financial burden on families.
"This is a compassionate policy that considers the financial difficulties of indigent families who are unable to afford the cost of uniforms due to the rising prices of goods and commodities as well as the economic constraints resulting from the pandemic," De Guia said.
CHR likewise supports legislation at the at the House of Representatives to promote "concrete ways to uphold the right to education and protecting the right to health in educational institutions."
De Guia said the Safe School Reopening Bill outlines key safety areas that would ensure the health and safety of learners and personnel during physical classes.
She said is it needed to ensure there is proper ventilation of learning spaces; on-campus health facilities and supplies; human resources for health; financial support for private educational institutions to implement safety measures; Covid-19 testing program for learners and personnel; as well as assuring there will be a medical fund for the free treatment of learners and personnel.
"It is also notable that the bill aims to provide health security, which will enable students and education personnel to learn and work without anxiety over the financial consequences that Covid may pose," she added.
CHR equally supports the passage of House Bill 203, which seeks to increase the salary of teachers.
She cited it will ensure due compensation for education personnel is commensurate with other government professionals who have been given salary increases in recent years.
"Many teachers take on additional odd jobs to support their families especially given the current rising inflation and peso devaluation," she said. (PNA)