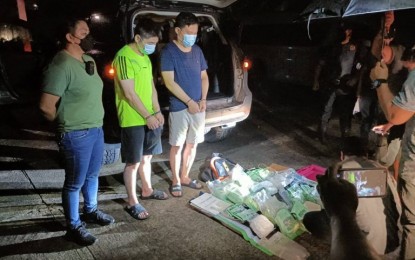 MANILA – Before handing over the presidency to Ferdinand "Bongbong" Marcos Jr., former president Rodrigo Duterte has a clear wish for the new leader -- to continue the government's no-nonsense anti-drug campaign.
In an earlier interview, Marcos said Duterte advised him to sustain the campaign in his own way and apply some changes if necessary.
"Pero huwag mong iiwanan yan (referring to drug campaign), dahil kawawa ang kabataan natin, masisira ang buhay nila (Don't abandon it. Our young people's lives are at stake. Their lives might be ruined)," Marcos said, quoting Duterte's remarks.
Heeding his predecessor's advice, Marcos is expected to make some shifts in priorities in the anti-drug campaign -- pursuing it within the bounds of due process and rule of law.
While the past administration has focused on the enforcement side, Marcos said drug abuse prevention and education and the improvement of rehabilitation centers will be the focus of his administration's anti-drug campaign.
The new leader also said he is open to tapping Duterte as drug czar but the latter turned it down.
Marcos' pronouncements were welcomed by the international community, with one envoy praising his commitment.
"We also touched upon political affairs -- the importance of a strong commitment that has been expressed by the President-elect (Marcos) to conduct the war on drugs within the framework of the law and with respect for human rights and with the focus on rehabilitation and socio-economic development," Swedish Ambassador to Manila Annika Thunborg said in an earlier press briefing after meeting with Marcos on June 10.
However, this shift in policy does not mean the country has softened its stance toward the International Criminal Court's (ICC) bid to launch a probe into the government's anti-narcotics campaign.
Marcos earlier said he will allow members of the ICC to go to the country but only as tourists and not as investigators, stressing that the country already has a "functioning judiciary" and is capable of conducting investigations by itself.
Last July 14, the ICC gave the Philippines until Sept. 8 to provide observations on its request to reopen the probe on the anti-drug campaign of the country's previous administration.
The Office of the Solicitor General earlier said it is still considering its available options in the investigation by the ICC.
Solicitor General Menardo Guevarra said he will also hold consultations with other government offices on lingering questions on the matter, including whether there would be undue encroachment on the country's sovereignty and the powers of its functioning judicial system.
Scope of drug menace
Marcos is taking over the past government's anti-drug campaign whose scope is reflected by data which was presented by various government agencies through 'Real Numbers'.
Based on the latest data as of May 31, authorities have seized a total of PHP89.79 billion worth of narcotics which include PHP77.01 billion worth of shabu.
A total of 15,271 high-value targets (HVTs) across the country were arrested since July 1, 2016.
The figure includes 6,873 high-value targets arrested from high-impact operations, 4,052 target-listed suspects, 1,719 drug den maintainers, 800 drug group leaders/members, 533 government employees, 406 elected officials, 364 foreigners, 295 included on wanted lists, 127 uniformed personnel, 78 armed group members and 24 prominent personalities.
Authorities also arrested 345,216 individuals involved in illegal drugs during the period.
The consolidated report also showed 6,252 drug suspects have died during 239,218 anti-illegal drug operations.
In the same period, authorities also arrested 4,414 minors -- which consists of 2,666 pushers,1,012 possessors, 455 users, 247 visitors to drug dens, 10 drug den maintainers, 18 drug den workers, three cultivators, one clandestine laboratory worker, and two runners.
The rescued minors, after court proceedings, will be turned over to the Bahay Pag-asa centers of local government units (LGUs) within eight hours of police custody, before turning them over to the Department of Social Welfare and Development (DSWD).
At least 25,361 out of the country's 42,045 barangays (villages) have been declared drug-cleared as of May 31 while 6,573 barangays were drug unaffected/drug-free barangays and 10,112 have yet to be cleared of illegal drugs.
The Philippine Drug Enforcement Agency (PDEA) said these barangays have reached drug-cleared status after the issuance of a certification by members of the oversight committee on the barangay drug-clearing program.
As of March 2022, there are a total of 74 accredited government and private drug abuse treatment and rehabilitation centers in the country.
Tough job ahead
For Department of the Interior and Local Government (DILG) Secretary Benjamin Abalos Jr., the implementation of a different approach in the anti-drug campaign will also focus on building up airtight cases against big-time drug traffickers.
Abalos, a former Metropolitan Manila Development Authority (MMDA) chair and Mandaluyong City mayor, said the key to an effective drug campaign is the pursuit of airtight cases to ensure that suspects pay for their crimes.
"It's proof beyond reasonable doubt. That is the evidence that we need to stand in court. If there are doubts, those cases are dismissed. We all know that. So what we need here are quality cases. Importante lahat ng ebidensya (It is important that all pieces of evidence) will really stand up in court. Not the quantity, hindi yung maramihan nga na puro dismiss (we don't need many cases only for them to be dismissed)," he said during his assumption as DILG chief on July 1.
Abalos also said he is looking into the possibility of assigning permanent employees at prosecutors' offices to act as Department of Justice (DOJ) representatives in drug cases -- a practice that was adopted by his wife Menchie during her term as Mandaluyong City mayor.
In doing so, Abalos, the law's witness requirement in the inventory of the seized illegal drugs is satisfied and few cases are dismissed.
Abalos also assured honest and dedicated cops that they do not have to worry anymore about being embroiled in baseless charges used by big-time drug culprits to harass them.
"I know you have already experienced this. We are standing up against billionaires who benefit from this illegal industry but we will not back down because the future of our children, grandchildren, and our nation is at stake. I will not allow our police to be demoralized. I will come up with a system to raise funds for them," Abalos added.
Abalos' pronouncement gained accolades from the Philippine National Police (PNP).
"We are also grateful for having a Secretary of the Interior who is very supportive of our police force. As a matter of fact, he committed that he would personally provide lawyers for our colleagues in the service," said Lt. Gen. Vicente Danao Jr., PNP officer-in-charge.
The PNP said Abalos' willingness to personally join some anti-drug operations would greatly boost the morale of law enforcers.
Abalos warned that heads will roll as 'surprise visits' in the jails will be prioritized in his first 100 days in office to ensure that the prison cells are free from illegal drugs.
"It is important to ease congestion as much as possible. Napaka-importante rito at napaka-importante sa lahat, sa lahat, walang droga sa kulungan. Nakakulong na (inmates) kung minsan, may droga pa diyan. (This is very important and very important to all that there are no drugs inside the jails. They are already in jail and yet there are still drugs in there. They better watch out),'' Abalos said.
Even if some jails cannot be inspected, Abalos warned of making unannounced visits to certain cell facilities and will subject persons deprived of liberty (PDL) to drug tests. (PNA)