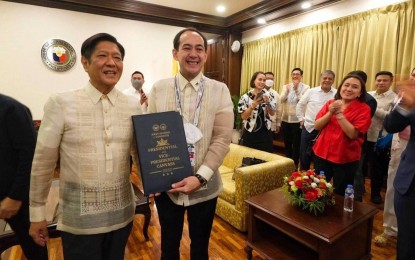 MANILA – A group of civic-minded Marcos loyalists has expressed support for Executive Secretary Victor Rodriguez amid rumors of his supposed resignation.
The Filipino League of Advocates for Good Governance (FLAG) - Maharlika believed Rodriguez was a victim of fake news and disinformation.
FLAG-Maharlika issued a statement on Saturday, a day after Rodriguez denied that he has resigned because of alleged participation in extortion.
"It could be clearly seen in his face-to-face[interview] with the media held at the Office of the Executive Secretary in [Malacañang] that this rumor is far from the truth, that he is instead in his usual self, dispensing his regular duties," said Aio Bautista, FLAG-Maharlika lead convenor.
Bautista said the smear campaign against Rodriguez is part of efforts to cause a rift between Marcos and his allies.
"Since the enemy failed in stopping the Marcos family from returning to Malacañang, the new goal is to remove all loyalists from power and to surround our President with puppets of the oligarchs, opportunists, and gold diggers," he said.
Bautista also advised the public, especially Marcos loyalists, not to fall victim to fake news and hearsay.
He attributed Marcos' win to Rodriguez, whom he said is a "true loyalist, a diligent worker, a friend to our beloved President."
"Let us not be fooled by fake news. Let us bring back integrity in journalism. No one should be asked to answer for chismis (hearsay). There are proper venues like the courts which should be used," Bautista said.
He called for continued support for Marcos' unity campaign, noting that "millions of Filipinos have banded and stood together behind the Marcoses and identified themselves as loyalists."
"We should unite behind one of our own and protect our government from the well-funded machinery of fake news by non-loyalists and fanatics of disunity who only want to possess power," he said. "Despite all the fake news, criticisms and attacks, [we], loyalists, held together and fought back. This election has been our vindication for all our support and for uniting as loyalists through the years." (PNA)