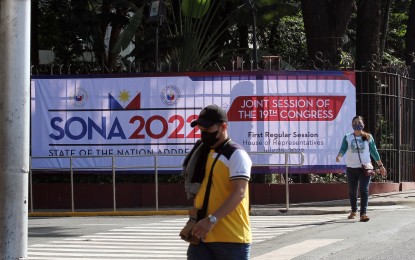 MANILA – On the eve of the first State of the Nation Address (SONA) of President Ferdinand "Bongbong" Marcos Jr., the dean of the University of Santo Tomas (UST) Faculty of Civil Law and the Quezon City Trial Lawyers League, Inc. (QCTLLI) asked support for the administration and its entire Cabinet, led by Executive Secretary Victor Rodriguez.
UST dean Nilo Divina said there is nothing more crucial than to unite under one decisive and responsive leadership.
"I issue this statement with sincerity and conviction in my personal capacity as a concerned citizen," he said on Sunday. "As we sail towards progress as one nation, let us all remember that we are in the same boat. We need to unite behind our captain and his crew to reach our destination."
As poverty, inflation, and increasing and economic uncertainties loom not just in the Philippines but all over the world, Divina said now is the time to set aside political differences and animosity in order to prioritize meaningful work.
Divina said the able leadership of Marcos and his officials "inspires confidence that we are in the right direction" and expressed support for Rodriguez, his former student.
"Part of this confidence comes from knowing first-hand that one of President Marcos's first appointees and one of the key public officials in our country, the Honorable Executive Secretary, Victor Rodriguez, has a profound sense of integrity and love for this country. Vic, who was my student in the University of Santo Tomas, has an extensive knowledge of the law and excellent management skills," he said.
Crucial role
QCTLLI, composed of more than 500 law practitioners, likewise called on its members to stand united behind Marcos and his officials.
The group slammed the "unfounded and baseless accusations" by some quarters against Rodriguez, its member and former officer who was rumored to have quit his post.
"Our country needs a reliable, dependable, and work-oriented person like him (Rodriguez) to help and provide our President all-out and unselfish assistance in his Herculean task of delivering public service geared towards economic recovery and poverty reduction," the statement read.
The group said Rodriguez's role and contributions that led to the victory of Marcos and Vice President Sara Duterte "cannot be belittled and certainly deserve to be recognized."
Divina said the new administration needs the support of the entire country for the next six years.
"Cooperation is needed to rebuild the country's economy, fortify the ramparts of the democratic system and attain social harmony. Together, let us all work for a better and stronger Philippines," the group's statement read.
Security preparations
Meanwhile, the Philippine National Police (PNP) will recalibrate its security deployment to allow both progressive groups and supporters of Marcos to hold gatherings during the SONA.
"We will abide by the decision of the city government and we will make the necessary adjustments just to ensure that we play no favor to any group. Our request is for them to conduct their mass protests peacefully," Lt. Gen. Vicente Danao Jr., PNP Officer-in-Charge, said in a statement on Saturday.
The so-called progressive groups will be allowed to march and assemble along the eastbound lane of Commonwealth Avenue up to the corner of Tandang Sora Avenue, while Marcos supporters may gather along IBP Road near Sinagtala Street in Barangay Batasan Hills.
"Just like what we are always saying, we respect their rights to peaceful assembly and air their grievances, and that is the reason why we designated freedom parks for them," said De Leon. "But we also expect them to respect our personnel who would be deployed in the area because they would only perform their job of maintaining peace and order for everybody, including the protesters themselves." (With a report from Lloyd Caliwan/PR)