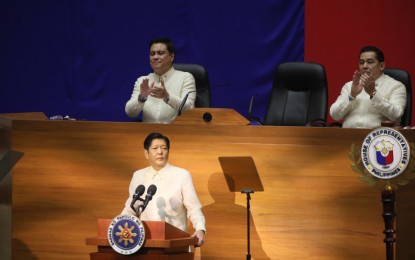 #PBBMSONA2022
MANILA – President Ferdinand "Bongbong" Marcos Jr. urged Congress to pass a law that will lift the burden off agrarian reform beneficiaries who have loan dues so they could concentrate on farm productivity.
During his first State of the Nation Address (SONA) on Monday, Marcos said such a measure would ensure the success of the administration's food security program.
"The condonation of the existing agrarian reform loan will cover the amount of PHP58.125 billion benefiting around 654,000 agrarian reform beneficiaries and involving a total of 1.18 million hectares of awarded lands," Marcos said.
He said an amendment to Section 26 of Republic Act (RA) 6657, or the Comprehensive Agrarian Reform Law of 1988, is needed to unburden the farmers from their loans and interests.
"In this law, the loans of agrarian reform beneficiaries with unpaid amortization and interest shall be condoned. Layon ng batas na ito na burahin ang hindi mabayarang utang ng ating mga magsasaka na benipisyaryo ng (This law aims to condone unpaid debts by the beneficiaries of) agrarian reform," he said said.
Section 26 states that lands awarded pursuant to the law shall be paid for by the beneficiaries to the Land Bank of the Philippines in 30 annual amortizations at six percent interest per annum.
Moreover, Marcos said agrarian reform beneficiaries who are yet to receive their awarded land under the Comprehensive Agrarian Reform Program shall receive it without obligation to pay any amortization.
He further explained that agrarian reform does not only cover acquisition but also support services and distribution.
"To assist this, I intend to issue an executive order to impose a one-year moratorium on the payment of land amortization and interest payments," Marcos said.
In a report submitted to Marcos, the Department of Agrarian Reform (DAR) said that in accordance with Section 40 (Special Areas of Concern) of RA 6657, there are 52,000 hectares of unused government agricultural lands that are up for distribution to landless war veterans, landless surviving spouses and orphans of war veterans, and landless retirees of the Armed Forces of the Philippines (AFP) and the Philippine National Police (PNP).
Under DAR Administrative Order (AO) No. 03 issued in 1997, aside from AFP and PNP beneficiaries, returnees, surrenderees, and similar beneficiaries, shall be considered in the disposition of agricultural lands of the public domain.
Members of the Citizen Armed Forces Geographical Units or their surviving spouses and orphans who were recruited by the AFP but who were disbanded are likewise included.
"It is the responsibility of the Department of Agrarian Reform to administer and dispose all cultivable portions of the public domain declared as alienable and disposable for agricultural purposes transferred to it by the Department of Environment and Natural Resources," the AO states.
Executive Order No. 75, Series of 2019 directs all government agencies, bureaus, departments, and instrumentalities to turn over agricultural lands owned by the government for distribution to qualified agrarian reform beneficiaries.
Agricultural lands acquired under this program will be given to landless college graduates with a degree in agriculture.
"The call of the times is for the infusion of fresh and new blood in the agricultural sector. We need a new breed of farmers equipped with modern agricultural technology able to engage in sustained scientific farming that will not only increase farm yields but also resilience," Marcos said. (PNA)