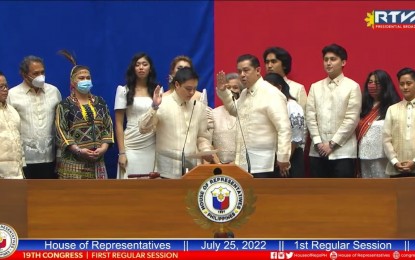 MANILA -- Leyte Rep. Martin Romualdez was overwhelmingly elected Speaker of the House of Representatives on Monday, as the first regular session of the 19th Congress opened.
Romualdez garnered 282 votes, after he was nominated by Ilocos Norte 1st District Rep. Ferdinand Alexander "Sandro" Marcos.
Batangas Rep. Ralph Recto, Davao City Rep. Isidro Ungab, Antipolo City Rep. Roberto Puno, Las Piñas City Rep. Camille Villar, llocos Sur Rep. Kristine Singson-Meehan, TUCP Party-list Rep. Raymond Mendoza, and Pampanga Rep. Aurelio Gonzales seconded Marcos' nomination.
Twenty-two lawmakers did not vote in the speakership race, four lawmakers abstained and one voted against.
"With unity at the core of the government as a shared vision for the next six years, the House of Representatives requires, now more than ever, a leader that embodies inclusivity, possesses unquestionable competency, and feels genuinely for the people we are all duty bound to serve," Marcos said in nominating Romualdez for Speaker.
"As such, among the distinguished members of this August chamber, the honorable Martin G. Romualdez is the most qualified to lead the House of Representatives to accomplish this formidable task," Marcos added.
No other lawmaker has been nominated for the speakership post, and no objections to his election were raised.
Romualdez took his oath as the 24th Speaker before Tarlac Rep. Jaime Cojuangco, youngest member of the 19th Congress at age 25, as his wife, Tingog party-list Rep. Yedda Marie Romualdez, and his children, Andrew, Marty, Minxie, and Maddey looked on, during the ceremony at the House of Representatives' rostrum.
Former President and Pampanga Rep. Gloria Macapagal Arroyo was elected senior Deputy Speaker during Monday's session, along with Ungab, Puno, Villar, Singson-Meehan, and Mendoza.
Reginald Velasco and retired Police Maj. Gen. Napoleon Taas were elected as House Secretary General and Sergeant-at-Arms, respectively.
In his acceptance speech, Romualdez rallied his colleagues at the House of Representatives to work together "in unity" in passing key measures to support development and achieve the goal of leaving no one behind.
"We will work together to ensure that the House of Representatives truly embodies the will of the people. We will work hand-in-hand to ensure the swift passage of House measures that are needed by the people and would support development across all sectors of society and different levels of government. With unity of purpose, there is nothing that we cannot do," Romualdez said.
Romualdez committed to ensure a "fair and equitable distribution of resources for development of our regions, regardless of political affiliation".
"Every Filipino family must be included in any development agenda. No one gets left behind," he said.
He thanked fellow lawmakers "for the honor" of choosing him to serve as Speaker of the House of Representatives for the 19th Congress.
"I gladly accept your trust and confidence with the promise that we will collectively work to make the 19th Congress the best it can possibly be," he said.
He also thanked President Ferdinand "Bongbong" Marcos Jr. "for having espoused the message of unity, and for supporting the House, its leadership and its legislative agenda," as well as Education Secretary and Vice President Sara Duterte, who personally witnessed his election and oath-taking.
He urged his colleagues to accept the duty of service to the people for the House to "move together as a team", stressing that there is strength there is unity.
"We are confident that with the unity that our President has espoused, we can actually overcome the crippling effects of this pandemic, political differences, or the impacts of the Ukrainian war," he said.
He said though their task may be daunting, "Our synergy is the seed that will nurture us for the next three years." (PNA)