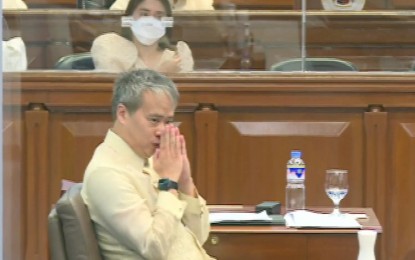 MANILA – Newly elected Senate Majority Floor Leader Joel Villanueva on Monday thanked colleagues Francis Escudero and Alan Peter Cayetano for guiding him to where he is now.
He recalled that when he was elected as Assistant Majority Leader during the 12th Congress, Cayetano was Deputy Majority Leader and Escudero was Senior Deputy Majority Leader.
"I must say that I lavishly benefited from their guidance, especially on how to serve the interests of our people," Villanueva said in his acceptance speech at the opening of the 19th Congress.
When Escudero became Minority Leader in the 13th Congress, Villanueva said he served as one of the deputies while Cayetano was Senior Deputy Minority Leader.
The past six years were worth more than a doctorate degree, Villanueva said, because he was also mentored by former senators Vicente Sotto III, Ralph Recto (now Batangas 6th District congressman), Franklin Drilon, and Senator Panfilo Lacson, among others.
"Please allow me to spend the next few seconds in thanking all of you dear colleagues and our new Senate President, Senator Juan Miguel Zubiri, for your trust and confidence," Villanueva said.
The 46-year-old lawmaker compared his current post to being a basketball player.
"I know that success in any human endeavor requires effort and teamwork. Communication is not only essential but critical in a team. We will ensure that nothing stands in the way of good communication and coordination between our offices," said Villanueva, a varsity player of the University of Santo Tomas in the early 1990s.
He likewise thanked his father, pastor Eddie Villanueva, late mother and sister, and his wife Gladys.
All "super majority" senators voted for Villanueva, except Senator Robinhood Padilla who suddenly announced that he abstained.
Villanueva was the representative of the Cibac party-list from 2002 to 2010 and Director General of the Technical Education and Skills Development Authority from 2010 to 2015 under President Benigno Aquino III.
Senators Risa Hontiveros and Aquilino Pimentel III will form the minority, with the latter as Minority Leader.
"It is my honor, on the part of the minority, to officially make it of record our designation of Senator Aquilino "Koko" Pimentel III as minority leader. Senator Pimentel, who is a friend of long-standing since our college days in the historic, early to late 1980s, a veteran lawmaker, a former Senate President no less, and I'm sure will make an excellent minority leader just like his father, the late great Senator "Ka Nene" Pimentel. I am certain that like his father, will help maintain the independence of the Philippine Senate," Hontiveros said. (PNA)