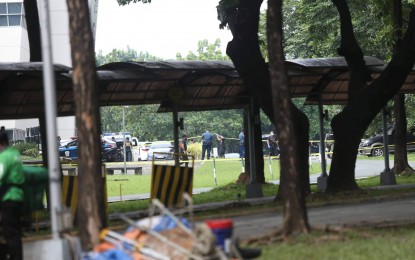 MANILA – The Catholic Educational Association of the Philippines (CEAP) on Monday condemned the shooting incident inside the Ateneo de Manila University in Quezon City that killed three people and injured two others.
In a statement, Sister Ma. Marissa Viri, CEAP president, said Sunday's incident brought shock and trauma as the shooting happened before the graduation rites of the university's law school
"The nation was shocked by the terrible act of violence committed during the commencement exercises of the Ateneo de Manila School of Law at Areté, Loyola Heights Campus. Hours before the celebration, an act of violence was executed thereafter, disrupting the supposedly joyful celebration filled with happiness and gratitude turned into terror, trauma, and death," she said.
At the same time, Viri sought prayers for the fatalities and their families.
"The association expresses its profound sympathy and solace to the victims, the bereaved, and those who were physically and emotionally injured by this unfortunate and unnecessary event. We call on our brothers and sisters in the CEAP community to offer our prayers to the victims and their families," she added.
Killed were former Lamitan City, Basilan mayor Rosita Furigay, her executive assistant Victor George Capistrano, and campus security guard Jeneven Bandiala, who reportedly tried to stop the suspect.
The suspect, identified as Dr. Chao-Tiao Yumol, a physician, was immediately arrested and is detained at Camp Karingal.
The League of Provinces of the Philippines (LPP) expressed sadness over the incident and called for a thorough probe to ensure that the perpetrator is "brought to justice".
"On behalf of the 81 member provinces of the League and their respective governors, we collectively express our unequivocal condemnation on this useless and senseless attempt on the life of (former) Mayor Furigay that has cost her life and that of two others," Presbitero Velasco Jr., LPP president and Union of Local Authorities of the Philippines chairperson, said in a statement.
Velasco honored Furigay's contributions as a local chief executive who "selflessly served her constituencies in Lamitan, Basilan in order to deliver to them the development they have always aspired for, through accountable, transparent, and participative governance."
"Likewise, we also extend our prayers for healing to Hannah Furigay (Mayor Rose's daughter), and all the others who may have suffered both physical and psychological injuries from the incident. It is our sincere prayer that this would not forever mar the memories they have of what should have been a day of celebration for the graduates and their families," he added.
Terrible, senseless
Senators Ramon Revilla Jr. and Risa Hontiveros were jolted by the incident but commended the Philippine National Police for its swift response.
"We condemn this shooting incident. Nakakalungkot po na ang masaya sanang pagtatapos ng mga estudyante mula sa Ateneo Law School ay na-uwi sa masaklap na insidenteng ito (It is sad to think that the supposedly joyous graduation of students from Ateneo Law School led to this terrible incident)," Revilla said in a statement.
"This cannot be the kind of world we will raise our children in. Marapat lamang na bigyang hustisya ang naganap na krimen na ito at panagutin ang mga may sala. Higit pa riyan, kailangang siguraduhin na hindi na muli dadanak ang dugo nang dahil sa galit at poot (It is only proper that justice should be served in this crime and the suspect be held accountable. Above all, no more blood should be shed because of anger and hatred)," Revilla added.
Hontiveros said a school campus should be a zone of peace and a place of warmth and should never have to deal cruel attacks.
Nothing less than justice should be served for the sake of the bereaved and the communities, she said.
She urged Ateneo to provide psychosocial support for the well-being and mental health of those affected by the incident, wished Hanna Furigay a speedy recovery, and asked support for the family of Bandiala.
Being an Atenean herself, Hontiveros hopes for the healing of the whole Ateneo community and all those hurting from the incident. (with a report from Lloyd Caliwan/PNA)