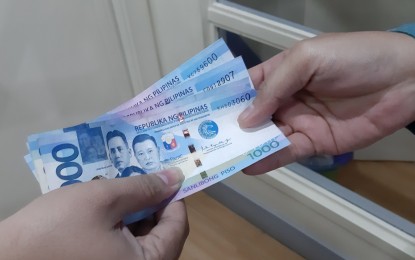 MANILA – Any rate adjustment decision by the Bangko Sentral ng Pilipinas (BSP) will depend not only on the rising inflation rate but the peso's performance, an economist said.
BSP's policy-making Monetary Board (MB) made an off-cycle 75 basis points increase in the central bank's key rates last July 14, the biggest hike to date, citing the need to address the impact of monetary policy tightening around the world and its resulting price pressures.
The decision was made a day after the US reported further acceleration of its consumer price index (CPI) last June to 9.1 percent, the fastest since November 1981, which made economists forecast continued aggressive Federal Funds Rate increases.
Rizal Commercial Banking Corporation (RCBC) chief economist Michael Ricafort, in a reply to questions from the Philippine News Agency, said the local currency continues to trade at the 56-level against the US dollar despite the aggressive hike in the BSP rate recently.
He, however, forecasts stabilization of the peso in the last quarter of the year due to seasonal inflows surge during the holidays due in part to higher export sales and remittances from overseas Filipino workers (OFWs).
Ricafort said the local unit has depreciated by around 10.5 percent against the greenback since the start of the year, "thereby increasing the attractiveness for foreign investors that opt to convert US dollars to pesos and purchase Philippine investments, especially those at relatively bargain levels, such as local stocks and other investments/assets."
He said the recent BSP rate hike was meant to help buoy the peso since the Federal Reserve is expected to announce more key rate increases, which would increase the interest rate differential between the Philippines and the US.
"This (rate increase) would also help better manage/anchor both actual inflation and inflation expectations," he said.
The BSP's policy rates have been increased by a total of 150 basis points this year –25 basis points last March, 50 basis points last June, and the 75 basis points recently.
To date, the BSP's overnight reverse repurchase (RRP) rate is at 3.25 percent, up from the record-low of 2 percent since 2020 when the MB slashed the central bank's policy rates by a total of 200 basis points to help cushion the pandemic's impact on the economy.
Ricafort said there was never a time when the BSP's key rates are lower than the Fed's, which is currently between 1.5 to 1.75 percent, due in part to the difference in the countries' credit ratings and the long-term inflation outlook.
He said the Fed funds rate is expected to increase to between 2.50 to 2.75 percent during the Federal Open Market Committee (FOMC) meeting this week or on July 26 to 27.

"More local policy rate hikes are still possible, if needed, as a function of any further Fed rate hikes to bring down elevated US inflation/CPI," he said, noting that "any further local policy rate hikes would also be partly a function of how the peso exchange rate behaves and the impact on inflation as well as actual inflation data, going forward." (PNA)