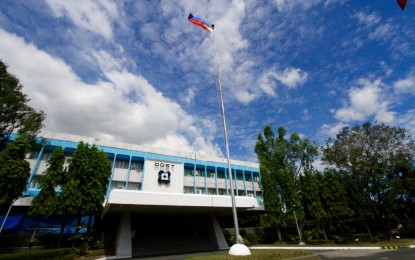 MANILA -- The Department of Science and Technology (DOST) is supporting President Ferdinand Marcos Jr.'s stance on investing in science and technology to boost the country's disaster risk reduction (DRR) efforts.
Marcos, in his first State of the Nation Address on Monday, acknowledged that the Philippines is a disaster-prone country.
"Capacity building for natural resiliency is therefore a must. Investment in science and technology is imperative to enable us to have the accurate weather forecasts and on-time disaster alerts," he said.
He added that based on studies, many areas in the country are now at high risk from the rise in sea levels brought about by the increase in global temperature.
"We must adapt to this phenomenon with disaster-proof planning of our communities," Marcos said.
DOST officer in charge, Undersecretary Renato Solidum Jr. said the agency agrees and supports the need to invest in science and technology in DRR and climate change adaptation and mitigation.
"For the immediate dimensions of resilience to disaster and climate change, DOST identified six R&D (research and development) areas -- natural and health hazards, water, energy, environment, and society, including infrastructure. We strongly believe that addressing one of these dimensions can bring co-benefits in the other dimensions. These dimensions of resilience are then the focus of R&Ds that we will pursue in the next six years," Solidum said after Marcos' maiden SONA.
Solidum said the R&D budget of the DOST for DRR efforts this year is PHP150 million, excluding the budget of the Philippine Atmospheric, Geophysical and Astronomical Services Administration (PAGASA) and the Philippine Institiute of Volcanology and Seismology.
He said the DOST believes that the Harmonized National Research and Development Agenda (HNRDA) will address Science, Technology and Innovation needs of the Philippines.
"We will collaborate with national, local, and private sector to pursue the Filipino aspiration of disaster and climate resilience," Solidum said.
The DOST held a series of consultation with its sectoral stakeholders in health, agriculture, aquatics and natural resources, energy, industry and emerging technologies, and in DRRCC.
He said the agency will address these sectoral and societal concerns through the HNRDA 2022-2028 that was approved by National Economic Development Authority this month.
Meanwhile, Vicente Malano, weather bureau's administrator, also agreed on the need to improve the forecasting capabilities.
He said PAGASA's proposed budget for next year is PHP3 billion.
Malano said PAGASA has enough budget for operation and maintenance, but its budget for infrastructure is limited for this year due to the Covid-19 pandemic. (PNA)