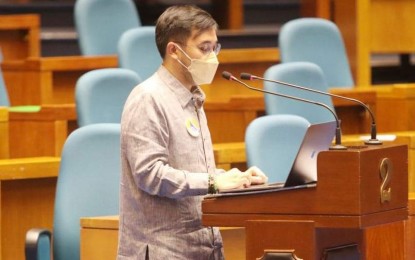 MALASIQUI, Pangasinan – Pangasinan 4th District Rep. Christopher de Venecia commended the special mention of the creative industry in the first State of the Nation Address (SONA) of President Ferdinand Marcos Jr. on Monday as he called for the passage of the proposed Freelance Workers Protection Act (House Bill 8817).
Many in the creative sector are freelancers, he said, and Marcos' SONA pronouncement is a show of support to them, De Venecia said.
"The President is determined to implement the Philippine Creative Industries Development Act to its fullest," De Venecia said in a statement on Monday.
De Venecia is the chairperson of the Committee on Creative Industry and Performing Arts and Deputy Majority Leader of the 18th Congress.
He is one of the principal authors of House Bill 8817 which seeks to introduce numerous key provisions for the protection of freelancers, including those making written contracts mandatory when procuring their services as it also provides night shift differential and hazard pay to them, he said.
READ: House approves Freelance Workers Protection Act on 3rd reading
In his first SONA, Marcos recognized the country's pool of talents and the sector's potential to create more job opportunities.
He said an institutionalized creative industry that would advance the interests of its stakeholders is required in order to protect the creatives who quipped as the ones who give soul to the Filipino identity.
He acknowledged that they still face many challenges concerning workplace conditions, working hours, and intellectual property rights while freelancers were also left vulnerable during the height of the pandemic.
Meanwhile, De Venecia also lauded Marcos' plan for tourism in the country as mentioned in his SONA.
"The additional emphasis on the Filipino brand of tourism is most welcome because it points to a shift in how we conduct and communicate tourism nationwide," he said.
De Venecia also lauded the President and his advisers for the emphasis on the value chains of the economy with matching subsidized inputs and production boosting, and the scientific approach to improving livestock raising and farming.
"I also took note of the agriculture sector priorities on strengthening production value chains, new modes of crop farming and livestock raising, and institutionalized credit access for farmers," he said.
He also welcomed the national network for farm-to-market roads and the need to cultivate a new breed of farmers, not just an innovation-forward breed of farmers but also for the agricultural youth.
"Relatively, I appeal for the passage of our young farmers and fisherfolk challenge program bill," he said.
The House Bill 9575 or the young farmers and fisherfolk challenge program bill was authored by De Venecia and aimed to create programs to support and empower the young Filipino farmers and fisherfolk to become partners of the state in attaining food security, agricultural development, and modernization.
It is also to encourage young people to be active participants in agriculture. (PNA)