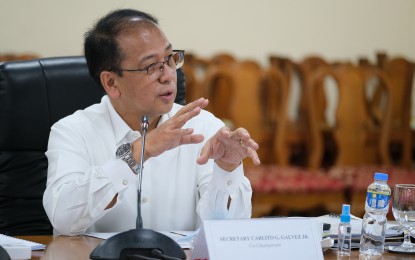 MANILA – The people and the government should work together to effectively address socio-economic challenges in the country, Secretary Carlito Galvez Jr. said Tuesday.
The Presidential Adviser on Peace, Reconciliation and Unity said unity is crucial in protecting the national interest and welfare of Filipinos.
"As our nation confronts the socio-economic challenges caused by the ongoing war in Ukraine, such as the rising cost of fuel and commodities, and the effects of the ongoing Covid-19 pandemic, I join President Ferdinand Romualdez Marcos Jr., in his call for all Filipinos to unite and come together," Galvez said in a statement.
Galvez bared that dialogues have been held by the government's peace partners in the Bangsamoro region, as well as in the cities of Davao and Cotabato, reaffirming their commitment to sustain the gains of the peace process during the previous administrations.
He noted that political support for the Bangsamoro Autonomous Region in Muslim Mindanao "is most crucial now than at any time previously."
"We are at a critical juncture on the implementation of the signed peace agreements on the Bangsamoro and the transformation and normalization of former combatants, their families, and communities," Galvez said.
Galvez backed the call of Undersecretary Jose Faustino Jr., Department of National Defense Officer-in-Charge, to stand with Marcos in bringing stability and progress to the Philippines.
He advised the public to reject "malicious and underhanded political propaganda" in an attempt to sow discord in the government.
One such try was the disinformation about the alleged resignation of Executive Secretary Victor Rodriguez three days before Monday's State of the Nation Address.
"As a nation, we cannot afford to be overcome by bitter partisan political divisiveness," he said.
Galvez emphasized the need for the public to work "cohesively" with the government so that the collective aspirations for national reconciliation, healing, and unity will be achieved. (PNA)