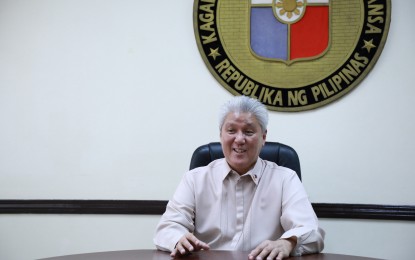 MANILA – The Department of National Defense (DND) will obey President Ferdinand "Bongbong" Marcos Jr.'s guidance to build stronger relationships with the country's neighbors without yielding Philippine sovereignty and territory, its spokesperson said Tuesday.
"We will adhere to the President's guidance to build stronger, multifaceted relations with our neighbors but not at the expense of our sovereignty and territorial integrity," Arsenio Andolong said in response to queries on how they plan to go about the Chief Executive's independent foreign policy where the country seeks to be a "friend to all, enemy to none."
Andolong said the DND would accomplish this through active engagement and dialogues with its foreign defense and military counterparts.
"The President was firm in his direction – we shall not cede an inch of our territory to any foreign power. To this end, the DND shall continue to pursue the modernization of the AFP (Armed Forces of the Philippines) and build our credible defense posture, which will allow us to further intensify our maritime and air domain awareness operations, and establish a stronger presence in our strategic border areas and territory," he said.
During his first State Of the Nation Address (SONA) on Monday, Marcos said he is charting an independent foreign policy where the country is a "friend to all and an enemy to none."
"We will be a good neighbor, always looking for ways to collaborate and cooperate with the end goal of mutually beneficial outcomes," he said.
The President also reaffirmed that his administration would aggressively promote "strong and more multifaceted" relationships but assured that his foreign policy would be based only on the country's national interest.
"If we agree, we will cooperate and work together. If we differ, we will talk more until we agree," he said. "But we will not waiver. We will stand firm in our independent foreign policy, with the national interest as our primordial guide. We commit to maintaining good relations with the rest of the world."
As this developed, Andolong lauded Marcos' decision to prioritize bills concerning the defense and security sectors.
This includes the Mandatory Reserve Officers Training Corps (ROTC) for Senior High School; the National Defense Act (NDA); and the Unified System of Separation, Retirement and Pension.
"The proposed revival of the ROTC in senior high school will greatly enhance our efforts to orient and prepare our youth for national defense preparedness and disaster response," he said.
Andolong noted that the DND has been pushing for an amendment of the NDA for years, pointing out that a new NDA would determine the size, shape, and capabilities of the DND and AFP based on today's realities and requirements.
"It must be re-crafted to optimize jointness among our major services and operating units, and address non-conventional threats, such as cyber and cognitive warfare, terrorism, and climate change, among others, which were non-existent in 1935," he said.
Andolong also said the DND recognizes the need for a Unified System of Separation, Retirement and Pension for military and uniformed personnel.
"There are Congress and Senate versions of the bill in the works. The proposed reform seeks to control the looming unfunded pension liabilities, which will continue to grow if the current scheme prevails," he said.
"As various aspects of economic and fiscal management are involved, there is a need to study the proposals in order to craft a sustainable pension system that will be responsive to the needs of our military and uniformed personnel." (PNA)