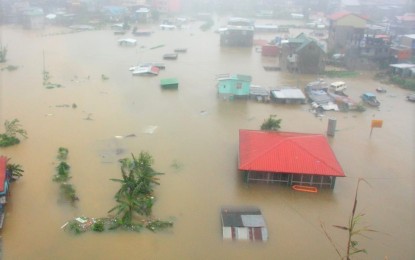 MANILA – The Department of Human Settlements and Urban Development (DHSUD) on Tuesday said it will continue to improve the government's Emergency Shelter Assistance Program (ESAP) for calamity victims.
As per President Ferdinand Marcos Jr.'s directives, the DHSUD said will strengthen emergency response operations and provide immediate assistance to victims of disasters.
In his first State of the Nation Address (SONA) on Monday, Marcos said the provision of ESAP for calamity victims should be implemented with "better coordination" between the DHSUD and the Department of Social Welfare and Development (DSWD).
The government's ESAP provides calamity-affected families with emergency cash assistance or construction materials they can use to repair their damaged houses.
Beneficiaries are usually those who do not want to transfer to resettlement sites following a disaster.
Assistant Secretary Melissa Aradanas, DHSUD Officer-in-Charge, said the department is determined to push Marcos' directives as a "prime mover" for the ESAP implementation.
"This is an enormous task as we are expected to make the delivery of emergency shelter assistance faster and better. However, I'm certain that we can improve our preparedness and responsiveness to disasters once we have a harmonized plan, backed by data from research and previous experiences," she said in a statement.
Aradanas vowed that the ESAP will serve as the core program of the DLSUD-DSWD.
"DHSUD will work closely with the DSWD for timely provision of ESAP," she said.
The DHSUD heads the shelter cluster of the National Disaster Risk Reduction and Management Council, responsible for the distribution of emergency shelter assistance.
The DSHUD also lauded Marcos' call for the inclusion of the National Land Use Act (NLUA) as one of the priority bills of the 19th Congress.
Marcos emphasized the need to push for rational and holistic management and development of the country's land and water resources while owners should be held accountable for "making these lands productive and sustainable."
The President said local government units must strengthen their management capacities "for ecological balance within their jurisdiction."
The NLUA is part of the DHSUD's 2040 national housing and urban development sector plan.
"On our part, we vow DHSUD's unwavering commitment to support PBBM's shelter programs to better what we have achieved in the last three years," Aradanas said. (PNA)