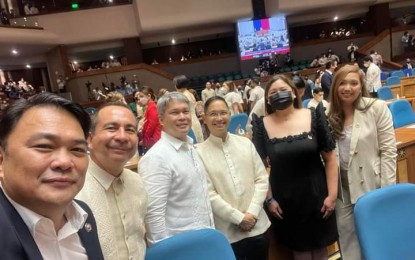 BACOLOD CITY – Lawmakers from Negros Occidental have expressed support for the priority legislative measures laid out by President Ferdinand Marcos Jr. during his first State of the Nation Address (SONA) on Monday.
This city's Lone District Rep. Greg Gasataya said in a statement on Tuesday he was informed of the Chief Executive's priorities in public services aligned with his legislative agenda.
"We are glad that President Marcos expressed his intent to prioritize the establishment of health care specialty centers in provinces and less accessible areas," he said.
Gasataya noted that in this 19th Congress, he filed House of Representatives Bill (HB) 999 seeking to establish the Bacolod-Negros Heart and Kidney Center to eliminate the geographic barrier in specialized medical care.
He also said that with the President's commitment of full support for economic zones, he remains optimistic about the establishment of the Bacolod Special Economic Zone to provide employment opportunities and decentralize development through HB 292.
Gasataya also welcomed the executive branch's move to put renewable energy on top of its agenda, pointing out that Negros is one of the most progressive renewable energy hubs in the country.
He said the measure he filed incentivizing renewable energy storage facilities would support the Marcos administration's policy of increased use of renewable energy for climate change mitigation and sustainable development.
Fifth District Rep. Emilio Bernardino Yulo III expressed optimism about the President's action to put agriculture in his top priorities.
"I am glad that agriculture is a big thing for him. That he wants food supply not only available but also affordable. We saw the focus on both the financial and technical sides," he said in a radio interview.
Yulo, a former board member of the Sugar Regulatory Administration Board, representing the sugar planters, attended the 19th Congress' inaugural session and the SONA virtually after he tested positive for the coronavirus disease 2019.
Abang Lingkod Party-list Rep. Joseph Stephen Paduano, who hails from this city, said his group would continue to be a strong ally of the President in a new direction for the country.
"We commit to work even harder so that more programs and projects will be put into stream up to the grassroots level, all in the name of true public service," he added. (PNA)