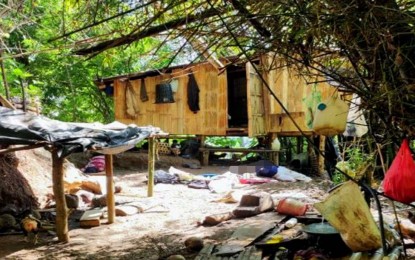 DUMAGUETE CITY – Three fighters of the Communist Party of the Philippines-New People's Army (CPP-NPA) were killed Tuesday during an encounter with troops of the Philippine Army's 62nd Infantry Battalion in the hinterlands of Barangay Budlasan, Canlaon City in Negros Oriental.
The slain rebels were identified as Cristina Jacolbe alias Chave, 40, finance officer of CN1; Ernie Jacolbe alias Frezy, 42, vice commanding officer of Section Guerilla Unit, CN1; and Everly Kee Jacolbe alias Kaye, 18, a member of CN1.
Government soldiers clashed with their group of more or less 10 NPA members of the Central Negros 1 (CN1) of the Komiteng Rehiyon-Negros, Cebu, Bohol, and Siquijor (KR-NCBS) at around 6:30 a.m. in the remote sub-village of Natuling in Barangay Budlasan. The firefight lasted for about 10 minutes.
The soldiers were patrolling the hinterland area of Barangay Macagahay in Moises Padilla, Negros Occidental, when they received a report from a civilian on the presence of armed men in the adjacent village of Budlasan.
Aside from the recovery of the bodies of the three rebels, the soldiers also seized a KG9 semi-automatic firearm loaded with a magazine; two caliber .45 pistols with two magazines; a caliber .38 revolver; one shotgun; assorted ammunition; suspected subversive documents; and personal belongings, the report said.
Brig. Gen. Inocencio Pasaporte, commander of the 303rd Infantry Brigade and the mother unit of the 62IB, told the Philippine News Agency that the rebels were engaged in intimidation activities at the borders of Canlaon City, Guihulngan City, and Moises Padilla.
Pasaporte commended the 62IB, led by its commanding officer Lt. Col. William Pesase, for its vigilance and quick action in response to the presence of armed men in Budlasan.
He also thanked the civilians for their support and cooperation in providing vital information to the troops.
"I am reiterating our call to the NPA members to voluntarily surrender and give up the armed struggle or you will end up with the same fate as the three latest casualties in our relentless operations," Pasaporte said in mixed English and Filipino.
The CPP-NPA is listed as a terrorist organization by the United States, European Union, the United Kingdom, Australia, Canada, New Zealand, and the Philippines.
The National Democratic Front has been formally designated as a terrorist organization by the Anti-Terrorism Council on June 23, 2021, citing it as "an integral and inseparable part" of the CPP-NPA created in April 1973. (PNA)