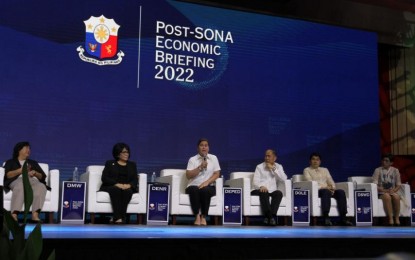 MANILA – Learners must be provided with mental wellness support to help them cope with the post-pandemic transition to in-person learning, Vice President and Education Secretary Sara Z. Duterte said Tuesday.
During a post-State of the Nation Address (SONA) forum, Duterte said the Department of Education (DepEd) has advised its regional offices to make this service available for learners.
"We instructed our regional offices to coordinate with their local mental health associations, in their psychiatric societies to come up with mental wellness support for our learners who for the past two years, only knew of the online classroom, and now they are transitioning to our in-person teaching," she said.
However, Duterte assured that they have provided ample time for schools and learners to adjust to the mandatory face-to-face learning set-up on November 2.
"We did not directly impose upon them to begin five-day in-person classes in their schools. We allowed them to conduct a blended learning mode, which is combined with in-person and distance learning," she said, referring to the setup allowed from August 22 to October 31.
With the earlier announcement of these modalities for the upcoming school year, enrollment has reached over three million on its first day.
"I am happy to share with everyone that our enrollment for the first day was 3.3 million already, as compared to our first day of last year which was at 222,000 only," Duterte said.
With the in-person set up just around the corner, she said they are also considering mobile vaccination in schools.
"Continue with the counseling of unvaccinated families, particularly the unvaccinated learners, and the teaching and non-teaching staff of the Department of Education that is unvaccinated as well. Once the counseling is successful, they initiate mobile vaccination in our schools, for those who have given their consent to be vaccinated," she said.
The education chief, meanwhile, noted they are also working on the recovery and rebuilding plans for schools affected by Typhoons Odette and Agaton.
"We started with the checking of inventory of the schools who were affected by typhoon Odette, and where they are now with their repairs and reconstructions of classrooms and buildings that were damaged by the typhoon, and we already talked to our finance department, to look for savings in the past year and this year, and request for the realignment of these savings to the repair, and reconstructions of these classrooms and buildings," she said.
The Department of Public Works and Highways is also expected to help in the reconstruction of buildings if there will be any repairs.
Last July 22, Duterte visited damaged schools in Bohol to assess their status and respond to their needs. (PNA)