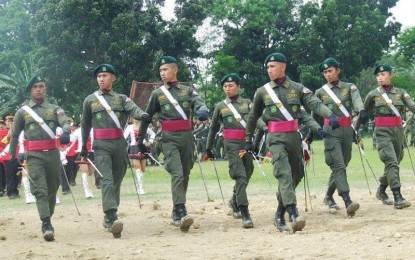 ILOILO CITY – The Office of the Civil Defense (OCD) 6 (Western Visayas) has welcomed the inclusion of the reinstitution of mandatory Reserved Officers' Training Corps (ROTC) and the National Service Training Program (NSTP) as among the priority measures mentioned by President Ferdinand Marcos Jr. in his first State of the Nation Address on Monday.
"It's good to hear that this new administration still puts disaster risk reduction and management (DRRM) on top of his priority, especially the thematic area of disaster preparedness, as well as capacity-building for risk-related situation through mandatory ROTC and NSTP among senior high school students," OCD-6 information officer Cindy Ferrer said in an interview on Tuesday.
Marcos said he expected both the House of Representatives and the Senate to support his move to make ROTC a mandatory component of Grades 11 and 12 in all public and private tertiary-level institutions to "motivate, train, organize, and mobilize students for national defense preparedness, including disaster preparedness and capacity building for risk-related situation."
Ferrer said mobilizing and empowering the youth in DRRM is "truly important in our quest to further strengthen our disaster resilience."
Department of Education (DepEd) 6 Director Ramir Uytico said the NSTP may be an "additional flavor" to basic education.
"This will expose learners to activities that empower them," he said.
Uytico, meanwhile, said DepEd-6 has institutionalized quality assurance, with the Curriculum and Learning Management Division at the helm of all the curriculum efforts of the department's 21 school divisions in the region.
This was in response to the pronouncement of the President to end the use of poor-quality education materials.
Uytico added that refresher courses and retraining for teachers are part of the Basic Education Learning Continuity and Recovery Plan that would be presented by the divisions during their conference on July 28 to 29. (PNA)