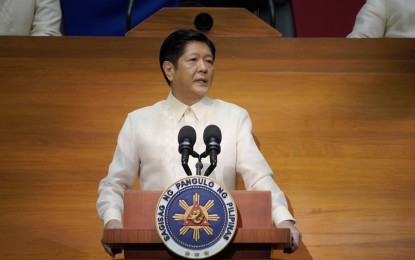 #PBBMSONA2022
MANILA – Lawmakers at the House of Representatives have lauded the first State of the Nation Address (SONA) of President Ferdinand Marcos Jr. as it presented clear vision of the government's economic recovery plan, which puts a premium on agriculture, infrastructure, health and tourism.
Leyte Rep. Richard Gomez said recovery efforts would focus on sustaining infrastructure programs, particularly former President Rodrigo Duterte's "Build, Build, Build" program, and instituting reforms and improvements in the agricultural and tourism industries as primary drivers in stabilizing the country's fiscal condition.
"President Marcos gave the nation an excellent presentation of his administration's six-year vision. It was both refreshing and comforting to hear the President's very positive outlook on the future of our country," Gomez said in a statement on Tuesday.
Gomez said targeting the agriculture industry and improving existing policies and programs would allow stakeholders to increase their yields and their incomes.
"Our farmers, fisherfolk and other industry players have bore the brunt of the Covid-19 pandemic, which was compounded by the onslaught of calamities, the foot-and-mouth disease and the bird flu virus. They would immensely benefit from the introduction of mechanized farming and technology and the construction of more farm-to-market roads," he said.
AGRI party-list Rep. Wilbert Lee said the agriculture sector that is mired in rising prices, calamities, and expensive inputs needs the attention of no less than the President.
Lee expressed support for the government's plan to provide farmers with easier access to farm input products to lessen the cost of farming while suggesting that enticing private companies to enter into agreements with farmers.
Lee had filed House Bill No. 1296, or An Act Promoting Corporative Farming and Providing Incentives for its Effective Implementation, which aims to encourage corporative farming, a partnership between farming organizations and communities with domestic corporations.
Farmer groups supply labor, expertise, and/or their landholdings while the corporations provide the necessary capital and guarantee the purchase of the harvest.
Gomez also expressed enthusiasm about the President's drive to establish more tourist destinations by building more and improving airports and sea ports.
He said he is particularly excited about having a railway system in Ormoc City going to Southern Leyte to make traveling to and from Mindanao easier, faster and more comfortable.
"I am looking forward to the next six years under the Marcos administration as our country moves toward economic stability. With unity and determination, I am confident that we will be able to achieve the President's fiscal agenda," Gomez said.
Camarines Sur Rep. Luis Raymund Villafuerte said Marcos' focus on agriculture, health and tourism would stimulate high growth, improve the lives of Filipinos and keep down economic scarring from the global crisis caused by the pandemic.
"Putting farm modernization plus productivity, public healthcare and tourism infrastructure, among others, on front and center of the Marcos administration over the medium term will let President BBM achieve his SONA-announced target to raise economic growth to 6.5 percent to 8 percent from 2023 to 2028, and his 'Bayan Bangon Muli' presidential campaign promise to uplift the lives of all Filipinos," Villafuerte said.
Villafuerte commended the President for giving priority to public health, following his SONA commitment to build specialty hospitals across the country, similar to those that were built in the National Capital Region (NCR) during the previous Marcos Sr. administration.
He was referring to the four specialty hospitals in Metro Manila -- Philippine Heart Center, National Kidney and Transplant Institute, Philippine Children's Medical Center and Lung Center of the Philippines.
"Building such specialty hospitals in all regions is a home run for President BBM as this will ensure that ordinary Filipinos outside the national capital will have easier access to quality healthcare that they couldn't otherwise afford, given the high cost of medical treatment and the lack of superior health facilities in the provinces," Villafuerte said.
On agriculture, Villafuerte said Marcos was correct in putting a premium on farm modernization and productivity as he "couldn't truly uplift Filipino lives" without paying attention to farmers who make up almost 10 million of the Filipino population.
Marcos has committed to boost farm output and stabilize food costs by raising state spending on financial and technical assistance to farmers by initiatives such as providing fertilizer, seeds and other farm inputs to tillers and expanding their access to rural credit.
Villafuerte particularly backed Marcos' plan to issue an executive order or EO imposing a one-year moratorium on the payment of land amortization and interest payments by farmers; as well as his call to enact a law to truly emancipate agrarian reform beneficiaries (ARBs) by condoning the loans of these ARBs, including their unpaid amortizations plus interests.
For the tourism industry, Villafuerte supported the Chief Executive's directive to improve road networks, upgrading airports and building other tourism infrastructure to provide easier access to tourism spots and make it more convenient for travelers to go around the country, even to remote areas to help promote undiscovered tourist spots.
1-PACMAN Party-list Rep. Mikee Romero, for his part, said the proposed concurrent resolution laying down the strategic macroeconomic priorities "is an innovation in our economic and legislative history" because it makes sure the budgets and legislative agenda "are enacted in accordance with the economic program."
Romero said the President's proposed new real property valuation system "will unleash the economic potentials of local governments who rely mostly on real property taxes to fund their programs."
"I take scientific livestock raising to include communal and food safety prioritized raising of swine, chickens, ducks, cattle, and freshwater fish. I see scientific fishing to include inland marine hatcheries," he added.
Romero agreed that tax administration and business registration can be made simple and convenient registration for enterprises from the smallest to those of foreign investors.
"For the small to smallest enterprises different but only a few tiers of registration fees should take the place of taxing these businesses," Romero said. (PNA)