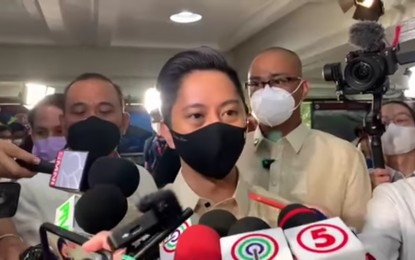 MANILA -- The House of Representatives on Tuesday elected presidential son and Ilocos Rep. Ferdinand Alexander "Sandro" Marcos as senior deputy majority leader for the 19th Congress.
During Tuesday's plenary session, House Majority Leader Manuel Jose "Mannix" Dalipe moved to nominate and elect Marcos to one of the high-ranking positions in the chamber.
Aside from Marcos, Dalipe also named Quezon City Rep. Franz Pumaren, Batangas Rep. Lianda Bolilia, Malabon City Rep. Josephine Lacson-Noel, Pangasinan Rep. Marlyn Primicias-Agabas, and Tingog Party-list Rep. Jude Acidre as deputy majority leaders.
Leyte Rep. Anna Victoria Veloso-Tuazon, Misamis Occidental Rep. Ando Oaminal, Tarlac Rep. Jaime Cojuangco, Leyte Rep. Richard Gomez, and AKO BICOL Party-list Rep. Raul Angelo Bongalon were elected as assistant majority leaders.
On Monday, Speaker Martin Romualdez clinched the speakership post after being nominated by Marcos and garnering 283 votes.
Minority bloc
Meanwhile, the minority bloc of the House of Representatives elected 4Ps party-list Rep. Marcelino "Nonoy" Libanan as their leader.
During Tuesday's session, Northern Samar Rep. Paul Daza reported to the plenary that Libanan was unanimously elected to the post by 25 lawmakers during the coalition's first organizational meeting on Monday afternoon before President Ferdinand Marcos Jr.'s first State of the Nation Address.
In his acceptance speech, Libanan assured that the coalition will perform its tasks "as a responsible minority".
"I would like to thank all my dear colleagues in the minority and all of the congressmen and congresswomen of this august chamber for this opportunity. Rest assured, we will perform our task as a responsible minority of this august chamber," he said.
Libanan was a former chairman of the House committee on justice, and a former majority leader of the Commission on Appointments.
Libanan served as a commissioner of the Bureau of Immigration during the Arroyo administration.
Bagong Henerasyon Rep. Bernadette Herrera will be the Deputy Minority Leader, as she vowed to work with Libanan in leading a "constructive minority" in the House.
"Being part of the minority should always be anchored on the public good, and not on the urge to obstruct or to be proven right," Herrera said.
Herrera said the House minority is looking forward to working with Speaker Ferdinand Martin Romualdez to ensure the passage of game-changing laws intended to fast-track the country's recovery from the coronavirus disease pandemic.
"Our duty to the people includes the great and heavy responsibility of protecting the independence and integrity of the House of Representatives as an institution of democracy," she said.
Herrera previously served as Deputy Speaker, Deputy Majority Leader, as well as chairperson of the Committees on Women and Gender Equality and on Public Information and Communications in previous Congresses. (PNA)