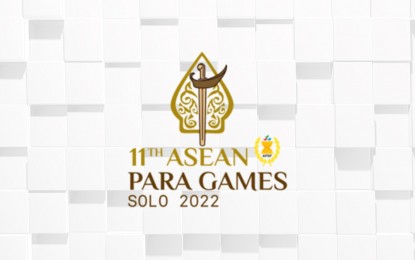 MANILA -- The Philippine Sports Commission (PSC)-backed Team Philippines left for Solo, Indonesia Tuesday morning on a chartered flight to start their 11th Asean Para Games (APG) campaign, four days before the opening ceremony.
The Games officially start on July 30 and will run until August 6.
The national team will be vying for honors at the biggest biennial multisport event for differently-abled athletes against the 11 member-countries of the Association of Southeast Asian Nations (Asean).
The Philippine contingent will compete in 12 sports – archery (nine athletes), athletics (24), badminton (9), boccia (4), chess (22), goalball (6), judo (6), powerlifting (8), sitting volleyball (10), swimming (12), table tennis (13), wheelchair basketball men (12), and wheelchair basketball women (4). They are accompanied by 38 coaches, and 40 team officials.
The PSC granted a total of PHP51.2 million in financial assistance to fully support the campaign of the 222-man Philippine Para Team delegation.
"We support our national para-athletes as much as we support our abled athletes. This is their chance to raise the flag again in the 11th Asean Para Games." PSC Executive Director and Officer-in-Charge Guillermo Iroy Jr. said.
He said the PHP31.7 million was released for the team's actual participation which covers the cost of a chartered flight, accommodation, travel and Covid-19 medical insurance, meal allowance, swab test, and among others for the seven-day sportsfest.
In addition to the said amount, the sports agency also provided the team with PHP10.4 million covering the costs for competition and training equipment, supplies, and uniforms for their participation in the 11th APG.
The PSC also assisted the national para team with another PHP7.7 million during their Bubble Training at the PSC-operated PhilSports Complex in Pasig City, where dormitories, training facilities, and other services from the Medical Scientific Athlete Services (MSAS) Unit were provided by the agency. The PSC also approved funds for meal allowances of the national para team.
"We wish them all the best this APG. They are the greatest pride of the country, especially for the PWD community. We are all behind them, win or lose," Iroy said. (PR)