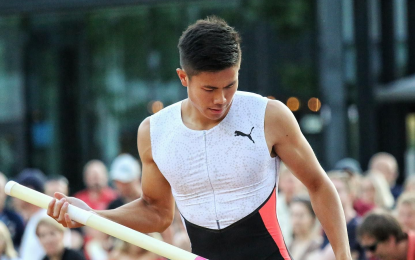 MANILA -- Filipino pole vaulter EJ Obiena posted his most significant win yet after clinching the bronze medal for men's pole vault in the World Athletics Championships (WAC) at Hayward Field in Eugene, Oregon on Monday (Philippine Time).
Obiena became the first Filipino to make the WAC podium, signifying that he is now among today's pole vaulting elites even as the number one in Asia reset the continental record with a 5.94-meter leap.
"Winning a medal is very happy and ecstatic," Obiena said on Tuesday in an online press conference.
However, he added that it was when he set his new career-high--and the Asian record--that he was more surprised considering that he was a few weeks removed from his coronavirus disease 2019 scare.
"If I knew that I was gonna jump 5.94, I don't think so having all of those happenings in the past few months--getting Covid. I knew I had a shot. I have to maximize it and do the best that I can," Obiena said.
The immediate goal right now of Obiena is to breach the six-meter mark, something that reigning world champion Mondo Duplantis has been doing on a regular basis at the moment.
The Swedish leaper was the only pole vaulter to clear six meters in the event, even resetting his own world record with a 6.21-meter jump.
Obiena tried his luck of going for six meters in hopes of beating American bet Chris Nilsen for the silver, but Obiena missed on all his three attempts, and Nilsen, who also cleared a max of 5.94 meters, clinched the tiebreaker for second place on countback.
However, with the current pace of his success, Obiena believes it would not take long before he joins Duplantis and Nilsen in the legendary Six-Meter Club even as he vies for the elusive Olympic pole vault medal.
Obiena, who made the Tokyo Olympic final last year, is a cinch to qualify for the 2024 edition in Paris.
"There are only 24 people who have done that in history, and I want to be the 25th. I think the analysis in the world championship showed that I've definitely soared over six meters but the bar was not set at six," Obiena said, recalling how he cleared 5.94.
It will not take long before he competes again as he will be back in action in two weeks' time with Duplantis and Nilsen also in it. (PNA)