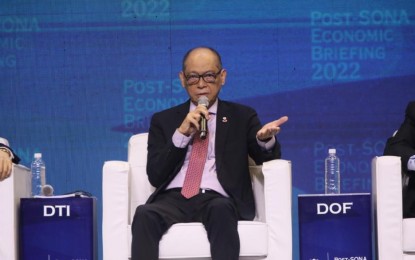 MANILA – The government needs to implement a program that will allow it to meet programmed spending and hit its growth target for the year.
"They have to have a catch-up plan," Finance Secretary Benjamin Diokno said during an interview at the sidelines of the post-SONA economic briefing at the Philippine International Convention Center (PICC) in Pasay City on Tuesday.
Data released by the Bureau of the Treasury (BTr) showed that government revenues reached PHP290.3 billion last June, 18.20 percent higher than the PHP245.6 billion same period last year.
Expenditures posted a higher growth of 27.91 percent to PHP505.8 billion from year-ago's PHP395.4 billion.
This resulted in a budget gap of PHP215.5 billion, higher than the PHP149.9 million in June 2021.
In the first six months of the year, total revenues reached PHP1.727 trillion, 4.80 percent higher than the PHP1.648 trillion same period in 2021.
Expenditures amounted to PHP2.401 trillion, lower by 3.04 percent compared to the PHP2.477 trillion programmed for the period.
Budget deficit in the first half of the year reached PHP674.2 billion, lower by 18.64 percent than the PHP828.7 billion target.
Diokno noted that even if the spending program for the six-month period was below target the difference is very small.
He pointed out that the target would have been met had it not been for the election ban. (PNA)