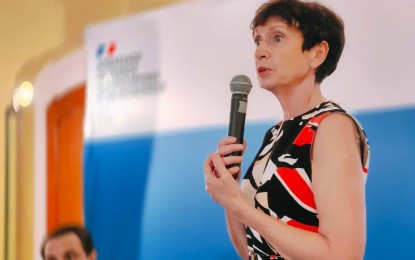 MANILA – The French government is keen to help the Philippines develop its nuclear power program as the Marcos administration looks for other reliable sources of energy.
French Ambassador Michèle Boccoz said the embassy has met with some of the Cabinet members and nuclear power was listed among the key areas Paris and Manila could cooperate on.
"(T)here's obviously an interest. As I said, we have an experience and expertise in many different sectors of renewable energy, including the nuclear sector," Boccoz said at a reception in Makati City on Tuesday.
She said working on small modular reactors is "probably much more realistic" than reviving the Bataan Nuclear Power Plant.
"I think that this is a thing of the past because the technologies have evolved so much that it wouldn't really make sense to work to build this kind of project and it's probably too big and it probably needs too much of the grid to be operational," she added.
"So having a sort of more modular systems is probably much more realistic and also in terms of the terrain here and the systemic risks and others. These are much smaller units that can be much more easily protected."
Boccoz, meanwhile, clarified that talks are still in the "very early stages" as Manila has to put in place a framework first.
In his first State of the Nation Address on July 25, President Ferdinand Marcos Jr. sought to re-examine the country's strategy towards building nuclear power plants in the Philippines.
"We will comply of course with the International Atomic Energy Agency regulations for nuclear power plants as they have been strengthened after Fukushima. In the area of nuclear power, there have been new technologies developed that allow smaller-scale modular nuclear plants and other derivations thereof," he said.
"Once again, PPPs (public-private partnerships) will play a part in support as funding in this period is limited."
France generates about 70 percent of its electricity from nuclear power plants but plans to reduce this to 50 percent by 2035 as its shifts to more renewables, such as solar and wind.
Besides nuclear, Boccoz said, France is also beginning to have discussions on hydrogen and other renewable energy sources with the new administration. (PNA)