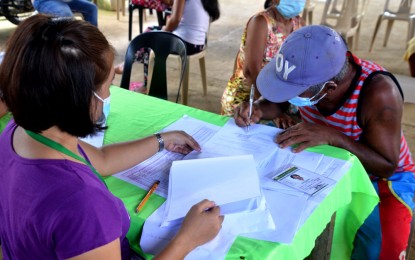 TACLOBAN CITY – The Department of Agrarian Reform (DAR) has already validated 164,611 hectares of farmlands in Eastern Visayas under the Support to Parcelization of Lands for Individual Titling (SPLIT).
The area has been included in the department's target for individual titling, which is up for implementation until 2025, DAR 8 (Eastern Visayas) Assistant Director for Operations Renato Badilla said in an interview Wednesday.
Of the total areas validated in the region from March 2021 to June 2022, only 1,199 hectares have been registered for titling with 733 farmer-beneficiaries.
The awarding is scheduled for September, according to Badilla.
"We are on track on field validation but we need to speed up the registration process at the Registry of Deeds (ROD) for recipients to get their individual titles," he said.
The DAR will acquire more computers and assign personnel to the ROD to facilitate the registration of properties.
Under SPLIT, the DAR is eyeing to validate and distribute 206,436 hectares of farmlands that were earlier awarded to farmers' groups through collective certificate of land ownership awards (CCLOA).
Parcelization is a process of subdividing and determining the exact metes and bounds of the areas covered under the Comprehensive Agrarian Reform Program.
It also involves the awarding of lots to agrarian reform beneficiaries in a CCLOA, determination of common use areas, portions with common service facilities and establishment of areas capable of being alienated and disposed of by the government.
The SPLIT project is funded by the World Bank with a total project cost of PHP24.62 billion, comprising 78 percent loan proceeds amounting to PHP19.24 billion and 22 percent Philippine government counterpart amounting to PHP5.38 billion.
In Eastern Visayas alone, the funding requirement is more than PHP1 billion.
The DAR field office here has already hired about 500 staff to carry out the validation and registration process.
Badilla said through this program, a farmer would be able to identify the portion of the land they own, making their lands more productive.
Having individual land titles will allow farmers to access bank financial services.
The DAR project is done in partnership with the Department of Environment and Natural Resources, the Land Registration Authority, Registry of Deeds, Land Bank of the Philippines, National Commission on Indigenous Peoples, and the Department of the Interior and Local Government. (PNA)